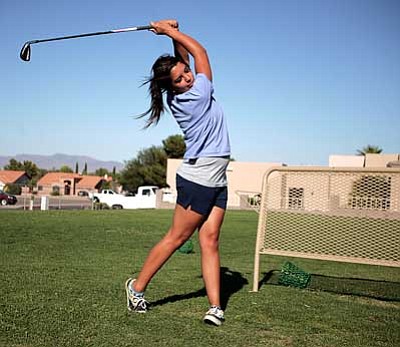 Originally Published: August 18, 2011 6:01 a.m.
KINGMAN - After one week of practice, new Kingman High girls golf coach Ryan Gery sees a lot of potential in his team.
Gery, a native of Pennsburg, Pa., takes over from former coach Ken Stalsberg and already has the goal of improving from years past.
"I think we have the potential to send a couple of players to regional tournaments and state if they play well this year," Gery said. "I think we have a lot of potential. It's just a matter if that talent will come out on certain days."
Hailey Moon, Jamie Robertson, Visha McCoy, Brianna Peterson, Taylor Stephens and Cassy Canoy will be looked upon to lead the Lady Bulldogs this year beginning when they host Glendale Mountain Ridge, Peoria Centennial and Lake Havasu in a triangular at 3 p.m. Aug. 29 at Cerbat Cliffs Golf Course.
"My coaching philosophy right now is to try and get the girls out to play as much as they can," Gery said. "They really don't learn much off the driving range and the putting green. For me it's all about playing. That way they learn all the bounces, what the greens look like. That way they will have an advantage over the girls who come here and play from different teams."
Gery arrived in Kingman on July 25th after graduating in May from Kutztown University in Kutztown, Pa., with a degree in education. In addition to his coaching duties, he will teach U.S. and World History at Kingman High.
"Two months after graduation, and I found a job teaching, which is pretty exciting for me," Gery said. "I think it's a great opportunity."
"(KHS) asked me if I have any aspirations to coach, and I said. 'Well in high school I played golf and tennis,' and they said. 'Well we have a opening for the girls golf coach, would you be interested.' I said. 'Yeah.'
Gery has been golfing for 12 years and at age 14 he hit a hole-in-one.
"That was an incentive to keep playing," Gery said. "I think it was just dumb luck, it just so happened to go in. Some people live their whole life and never do that."
Gery has already played the Cerbat Cliffs course five times and during his most recent round, he shot an 80, which he says "feels good to be able to do well on your own home course."
But while Gery is learning the home course and learning his players, he has already made a good first impression on his players.
"He's been helping us out a lot," Peterson said. "He's very motivating for us to do well and not look down at ourselves and be optimistic, which helps us out."