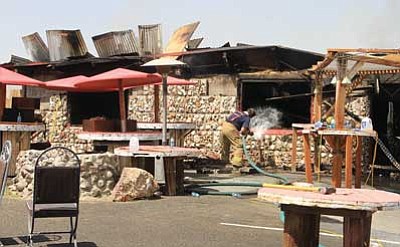 Originally Published: August 21, 2011 6 a.m.
KINGMAN - An iconic rest stop was destroyed by fire early Friday morning.
Rosie's Den, best known as destination for weary U.S. 93 travelers and Nevadans looking to buy lottery tickets, caught fire sometime around 3:30 a.m. Firefighters from three departments were able to save the adjacent Gift Shop portion of the business, while the restaurant and back end of the building where the fire is believed to have started were destroyed.
Firefighters working the scene had to attack the fire from the outside because the building's age and structural stability compromised safety inside.
Rosie Larsen is the owner of Rosie's Den. According to Randy Larsen, Rosie's son, the business was first established in 1933. Rosie bought the place 27 years ago and brought in personal items she had from Florida.
She named it "Rosie's Den" and decorated the place with these items to give the comfortable feel of someone's "den" at home.
Randy said that Rosie's Den had become the second-largest Powerball ticket sales location in the United States.
"It's a shame," Randy said Friday while looking at the smoldering remains of the building. "It was a piece of history."
Chuck Myers, Rosie's great nephew, feels the same way.
"It's devastating," he said. "I grew up here. I spent a lot of my life out here and to see it all gone ... there are a lot of family memories here."
Despite everything that happened, according to her family, Rosie plans to rebuild.
The undamaged Gift Shop was expected to reopen in a limited capacity Friday afternoon, providing cold drinks and Powerball tickets for bikers and other travelers along U.S. 93.