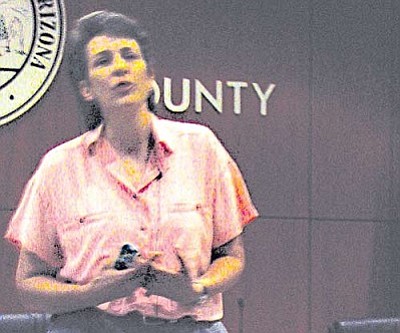 Originally Published: August 23, 2011 6 a.m.
KINGMAN - The dangers of alcohol, heroin and methamphetamines are well documented, but synthetic, often legal drugs are being marketed and sold to young people despite outrageous danger and limited research, experts say.
People of all ages and from all walks of life gathered at Mohave County's administration building for a presentation on "Drugs, Kids and Our Community." ACT on Drugs President Lynn Reimer, who specializes in educating and training communities about drug problems, along with Dr. Ron Holmes, a pediatrician, gave the presentation to a large crowd.
With names such as Spice and Blaze, synthetic cannabinoids designed to mimic marijuana may be marketed as safe and legal incense or potpourri but are being ingested by people - often teenagers - to get high, Reimer said. The products, which come in small colorful packets and cost as low as $7 a gram, can be broken down in alcohol or acetone and then sprayed on plants and smoked.
The packets warn that the substances contained are not for human consumption because they have never been tested on humans.
However, they've been tested on animals, and in the case of K2 Spice it actually caused brain hemorrhaging among the subjects, Reimer said.
The United States Drug Enforcement Agency recently used its emergency scheduling authority to make many of the chemicals found in synthetic drugs illegal in order to avoid what the organization sees as an imminent public health threat.
According to a DEA release, emergency room physicians report that individuals who use these types of products experience serious side effects which include: convulsions, anxiety attacks, dangerously elevated heart rates, increased blood pressure, vomiting and disorientation.
There's one problem - all it takes is a flip of a molecule and an added or removed carbon to alter the chemical without changing the effect, Reimer said. That keeps the products on the shelves and within legal guidelines.
"The bottom line is that we really don't know what these chemicals are," Reimer said. "They are sold as incense or 'pot-pourri.' User beware."
Then there are melatonin desserts such as Lazy Cakes, which are designed to mimic hash- or marijuana-laced foods. Melatonin was first used as a dietary supplement in the 1990s, Holmes said, but now people are gobbling these desserts down to help them sleep and get high. One of the potential side effects from these desserts is enlarged breast size - in men.
"If a man comes in (to a clinic) with large breasts, there's a good chance he is having a lot of fun with melatonin," Holmes said.
Synthetic marijuana is one thing, but what about synthetic forms of more dangerous drugs such as cocaine? One product known as "bath salts," which has been recently banned in may states, is easily accessible, extremely dangerous and associated with teen suicide, Reimer said. As with synthetic marijuana, manufacturers are quickly reforming their recipes in order to maintain legality.
"Bath salts" cause extreme psychotic episodes, Reimer said.
For example, while high on "bath salts" and dressed in a pair of women's panties, a West Virginia man was arrested in May for allegedly stabbing a goat to death, reported the New York Daily news.
From Red Rocket, which is sold as a fertilizer supplement but causes meth-like effects when smoked, to the various synthetic drugs already mentioned, Reimer said research testing on humans is basically non-existent, yet the products are marketed, packaged and sold to humans.
The presentation ran the gamut of illegal and legal drugs, including inhalants and propellants. People huffing nitrous oxide from a whipped cream can or carbon dioxide from a CO2 canister can face serious health consequences, Reimer said.
These are volatile hydrocarbons, Holmes said. When they enter the body, they cause mild to severe lung damage, depending on the amount inhaled, he said. Also, pregnant mothers who use these types of methods to get high can put their babies at high risk. If a mother huffs toluene, a chemical used in high-octane fuels, during the third trimester, it can cause spontaneous abortion, premature birth and severe developmental delays in the child, Holmes said.
Although the presentation was a rundown of what is what in the drug world, it also focused on the symptoms of addiction in order to give parents the tools needed to identify potential drug addiction among their children. Symptoms include behavior changes, severe mood swings and withdrawal, according to Reimer and Holmes. Physical signs include lack of coordination, bad breath and body odor, sweating and dry mouth as well as slurred speech, confusion, lack of concentration and slowed reaction time.
However, what is readily available and often legal along with illegal, well-known drugs and signs of their use made up the bulk of the presentation.
"It's amazing what is available in your community," Reimer said.