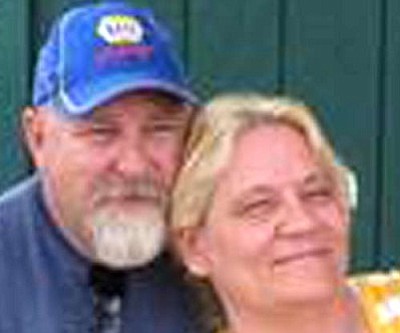 Originally Published: August 24, 2011 6:01 a.m.
Ricky Allen Kemery, born March 19, 1952, and Valerie Jean Kemery, born Jan. 12, 1954, died Monday, Aug. 15, 2011. They lived in Auburn, Ind., before moving to Golden Valley in 2000. They were married for 33 years.
Ricky was a U.S. Army Veteran of the Vietnam War.
The couple is survived by four daughters, Amy Wasnich, Terrie Kemery, Michelle Schiefelbein and Sarah Hornett; one son, Shaun Kemery; 14 grandchildren; and several nieces and nephews. Ricky is also survived by a sister, Tammy Lalone, and a brother, Jeff Kemery, and preceded in death by DeWayne Kemery. Valerie is also survived by a sister, Marsha Klug, and two brothers, Scott Elliott and W. Joe Elliott, and preceded in death by J. Patricia Springman, LaRue (Lee) Springman, Vernard Elliott and V. Wayne Elliott.
The memorial service will be at 6:30 p.m. Wednesday, Aug. 24, at First Church of the Nazarene, 4715 N. Stockton Hill Road. A dinner will follow with the family, members of the Patriot Guard and members of the Church of the Nazarene.
They will be dearly missed and loved by all.