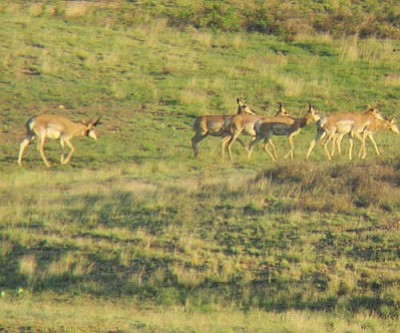 Originally Published: August 24, 2011 6:01 a.m.
Last weekend, I had the opportunity to spend some time in the field with local sportsman Ryan Chan as he pursued a trophy antelope with his bow and arrow.
This was Ryan's first antelope tag and he spent months getting ready for the hunt.
Assisting Ryan on the opening weekend of his hunt would be his father, Jay, and good friend John Howell. The team would also be joined by local sportsman Jack Gunnoe.
When I got the call from Ryan asking if I wanted to go along on his hunt I was pleased.
I met the Chans well before daylight on the opener at their camp and learned that Ryan was targeting a buck that sported absolutely huge prongs!
The young archer had found this buck way back in May, and had been watching him since then.Unlike back then, the buck now had a small harem with him. This buck's main focus now was on the rut.
I have always said when it comes to hunting big antelope bucks a sportsman has to, "Beat the does to win the buck!"
The first stalk on opening day ended when the buck and his small harem ran off a large flat after the swirling winds gave Ryan's location away. He had only gotten to within 130 yards.
It rained hard that afternoon, but Ryan was on a hill glassing when he located the herd.
This time he stalked and crawled into range on the bedded buck. His range finder said 50 yards, not once but three times, so Chan hooked up his release, stood aimed and released an arrow.
The arrow fell well short of its mark, and the buck ran off.
Ryan learned a valuable lesson. Don't take readings with a range finder while laying flat on the ground. His range finder said 50 yards, when in fact the buck was actually at 65 yards away.
The next morning I located the herd bedded in a small drainage, Ryan came to within 93 yards before a doe saw movement and off they went.
The antelope moved to another valley a couple miles away. Later that day we found them bedded in some juniper trees. This time it was a pack of three coyotes that ruined the stalk.
Later that day, Ryan and John decided to go to another area, while Jay and I looked for the elusive herd and the big buck. They were nowhere to be found.
Later the next day Ryan could have ended the hunt when a small and not very smart buck stood up at 30 yards broadside. Ryan passed the shot.
Finally on Sunday evening, Gunnoe spotted the big buck and his now shrinking harem at a nearby water hole.
Monday morning at daylight Ryan was back on the trail of the big guy. He made two stalks, and actually got to within 68 yards of the buck, but couldn't get a clear shot.
Ryan is learning first hand why it is so difficult to take an antelope with a bow and arrow, especially when you are doing only spot and stalk. With eyes that equal ten power binoculars, and senses that are honed to protect them from the constant threat of predators, they are not an easy animal to get close to.
He still has about four more days before he has to go back to work, and he and his dad are learning more and more about the patterns of these speed goats. I'll let you know how it all works out.