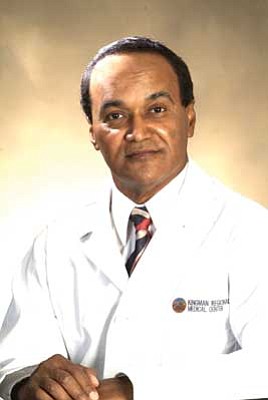 Originally Published: August 26, 2011 6:01 a.m.
KINGMAN - Kingman Regional Medical Center and The Kathryn Heidenreich Adult Center will continue their bi-monthly Senior Health Focus Sept. 8 with a presentation by Wilson Otero, M.D., on "Improving Regularity."
As a fellowship-trained gastroenterologist, Otero specializes in the diagnosis, treatment, and management of digestive system disorders in men and women.
With over 30 years clinical experience in gastroenterology, Otero is skilled in advanced diagnostic procedures and treatment options for patients with problems in the esophagus, stomach, large and small intestines, rectum, gall bladder, liver or pancreas. Prior to coming to Kingman, he was in private practice in Hialeah, Fla.
Otero received his doctorate in medicine at Temple University School of Medicine in Philadelphia. He completed his internship at New York Medical College and residency at Maimonides Medical Center in Brooklyn, N.Y.
He also completed a two-year fellowship in gastroenterology at the Gordon Center for GI and Digestive Diseases at the University Of Rochester School Of Medicine in Rochester, N.Y.
The Senior Health Focus features different health care professionals presenting on relevant health care topics. The seminars are free and held from 10 to 11 a.m. at the Kathryn Heidenreich Adult Center, 1776 Airway Ave., No. A. The Center's hours of operation are from 8 a.m. to 4 p.m. Monday through Friday.
There is no charge for the program but seating is limited. RSVP to Debera Daugherty at (929) 757-2778.