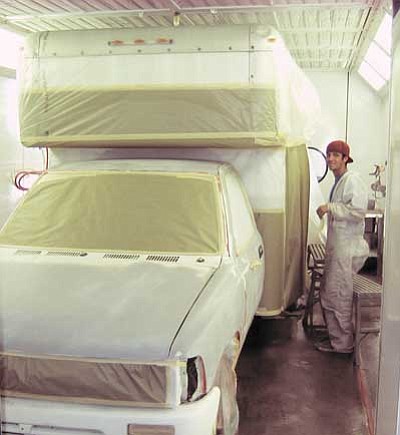 Originally Published: August 28, 2011 6:01 a.m.
KINGMAN - Local businessman Rick Neimeyer needed two of his trucks painted so he could sell them. The lowest quote he found offered to paint his '65 Chevy truck for $3,500.
After talking with friends about the out-of-whack pricing, he and his wife, Penny, decided to become franchisees of Maaco, a national company specializing in collision repair and auto painting.
In September, the Neimeyer's Maaco will celebrate its one-year anniversary.
Throughout the year, Rick has tried to get the right people into the right jobs. After what he calls a typical business learning curve, he can honestly say he has an excellent staff.
An entry-level position at Maaco entails job duties such as sanding and prepping, which Rick said are not very glamorous.
"It's been hard finding guys who have the desire to excel here," he said.
But for those who want it, opportunity is plentiful.
Consider Jason "Flip" Ortiz. When he started at Maaco, he couldn't spell "paint gun," Rick joked. After showing patience and dedication, including working 14-15 hours a day, Ortiz is now the No. 1 painter at the shop, Rick said.
"It's rare to find 21-year-olds with the drive of (Ortiz)," Rick said.
Plenty of people have been let go for lacking drive and demonstrating an inability to complete tasks, he said.
"We've made huge strides since the beginning," Rick said.
One of Rick's major upcoming goals is getting his Maaco a Direct Repair Program certification, which is a type of insurance that opens the door for contracts with rental car companies, the federal government and other organizations that may require lots of body work to their vehicles.
"It's rare to be certified within a year," Rick said. "We're testing in just a few weeks."
It takes the right staff, Rick said. There are two bodywork guys with 50-60 years of experience between them on Rick's staff, which helps bring the quality of staff to a different level.
"I feel very fortunate to employ these guys," Rick said.
Customer satisfaction is also a big thing for Maaco, Rick said. He estimates 90 percent of his customers walk away pleased, but admits that it's impossible to please everybody every time.
"We could do the work for free, and some people would still complain," Rick said.
One of the big conversions Maaco is currently going through is a transition from the traditional paint options for customers, Ambassador, Presidential, Supreme and Signature, to more explanatory options that outline exactly what people get for their money.
It's all about the customer, Rick said. These new options allow the customer to make informed decisions about their money. The options start around $400 and move up from there. It's a category system of good, better and best that goes from the most economical to the very high end, Rick said.
It takes the confusion out and lets customers know exactly what they're paying for, he said.
"It puts customers in all aspects of the loop," Rick said. "Money is tight for all, and the No. 1 thing people want to know when they spend their money is what is happening."
This transition is for all Maaco establishments across the country, and it has been in the process for two years, he said.
After nearly a year, Rick is completely happy with his decision to open a Kingman Maaco and hopes to stay open for years to come.