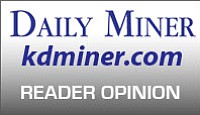 Originally Published: August 29, 2011 6:01 a.m.
I lost my wallet two weeks ago and when I came home from work it was on my doorstep.
I would like to thank the person for taking the time to return it to me. There are still good honest people in this world.
Ernest Matthews
Kingman
I would like to extend a big "thank you" to the Citizens Action Team, a group of unsung heroes of our community whose sole mission is to fight crime in Mohave County.
They assist law enforcement and everyday citizens in identifying criminals and crime in Mohave County. Their website www.citizensactionteam has a wealth of information the average citizen should visit daily. Many links like the Kingman Police crime map that shows, by icon, what type of crime and where it occurred on a detailed street map or the CAT website's news and arrests section.
Please call, e-mail and support these unsung heroes to help clean up Mohave County. Thanks (CAT) guys! You are truly amazing people.
Ann Wright
Kingman
The Kingman Cancer Care Unit would like to give a big thank you to Maaco Painting for their hard work to raise money through a raffle for a paint job for our organization, of which the employees matched the raffle money. Their donation helps our organization to help the cancer patients of our community with their various needs.
Our unit is a strictly volunteer organization and all of the money donated to us is kept in Mohave County for our cancer patients. So it is businesses like Maaco who help us to help others.
Thanks again for your donation.
Phyllis Eaton
KCCU Secretary
Kingman
It's time I acknowledge the open-mindedness of the Kingman Daily Miner opinion page. I have authored many controversial articles such as illegal aliens, liberals in Kingman who voted for President Barry Obama, welfare slugs, Social Security off-set and without fail, you have printed them. A sign of a true American paper, not biased or exclusive. Thank you, thank you.
Emile 'Moe' Manara
Kingman
A great big thank you to the young man who turned in my red wallet at the library on July 28.
The desk did not get your name so I am writing this to say you must have great parents and they should be very proud of you.
Being an 88-year-old great-grandmother, I am also sending you a great big "hug" and God bless!
Maxine Burgess
Kingman
Thank you to all who helped at Catapalooza on Aug. 15 and 16 in the PetSmart parking lot.
Plateauland Mobile Veterinary Clinic (Division of Second Chance in Flagstaff) is a registered non-profit in Arizona. Our mission is to help people in the community obtain affordable spay/neuter and other services for their pets.
As of this date, the mobile clinic has spayed or neutered a total of 171 local cats! Thank you, Mohave County, for making this event even more successful than the previous one. You have made a difference and helped our community reduce future feline overpopulation. Numerous dogs, cats, and birds were also vaccinated and/or microchipped over those two days.
The Plateauland Mobile Veterinary Clinic staff, Dr. Taylor Williams DVM, Dr. Lana Holcomb DVM, and the veterinary techs, Reanna Zavala, Carolyn "Coz" Rose, and Michelle Mazzochetti gave the generous donation of their time and skills for those two days.
We would like to thank the local volunteers, Tracy Fenesis-Bennett, Troy Bennett, Deana Cottle, Stephanie Ciofalo, Jerry Burch, and Kristin Freiert, as well as volunteers from the Bullhead City group, S.A.I.N.T. (Saving Animals In Need Together), Brenda Fury, Tessa Fury, Jeanne Brooks, Gail Moscato, and Sue Read-DeMarco.
And none of this would have been possible without the generous help of local businesses, PetSmart, Petco, For the Luv of Paws, Kingman Company Steakhouse, Dora's Beale Street Deli and Catering, Love Yogurt, Chili's, Porky's Pit Barbecue and Bar, Super 8 (East), Days Inn (East), AAA Safe Storage and Mini Mart, Sherry White from the Hometown Crier, Ann Herrington from the Mohave Dog, the Kingman Daily Miner, KingmanAzCommunity@yahoo.com, Cameron Broadcasting, and several generous private donors.
The mobile clinic will be heading to Bullhead City next time. S.A.I.N.T. will be sponsoring an event Oct. 27 and 28. If you'd like more information about this, please call (928) 704-0800 or e-mail BHCSAINT@yahoo.com (please reference the spay/neuter mobile clinic in the subject line).
Again, thank you all.
Stephanie Ciofalo, on behalf of
Dr. Taylor Williams DVM
Plateauland Mobile Clinic
Mohave County School Gardening Program would like to offer its deepest appreciation to Mike File, Mohave County school superintendent, and the KRMC Foundation for their continued support in the 2011-2012 school year of the plant science-based teaching program in Mohave County schools. The program promotes volunteerism and youth awareness on important values of agricultural science to our community.
The funding from our County School Superintendent Mike File and the KRMC Foundation is benefiting our local schools and students with hands-on gardening projects that compliment classroom learning while meeting the Arizona Academic Standards in subjects including science, mathematics, language arts and social studies. Our gardening students are involved in the planning and development of the garden experience.
The students took part in the basics of design, layout, budgeting, water and fertilizer requirements, growth measurements, counting fruits and seeds, which strengthen their mathematic skills.
They explore plant development, plant parts, plant adaptations, climate, entomology and composting to understand science and its methods and theories. Their plant journal and record books offer practice in language arts, with pages filled with stories, poetry and drawings. Students also learn about heritage gardens, cultural influences on foods and gardens, and agriculture's importance as related to social studies.
The $5,000 check from the KRMC Foundation for the 2011-2012 program service will enable the development of more on-campus gardens, where students can explore plant science and strengthen physical fitness and nutrition as they try different fresh produce from their school gardens. The funding, along with many local business sponsors of the School Gardening Program, helped with the success in recruiting and training over 60 community volunteers on agricultural science lessons, totaling more than 114 school visits with over 915 volunteer hours in the 2010-2011 school year.
We look forward to supporting the plant science-based teaching program in Mohave County schools, and to providing students with hands-on gardening projects in the coming academic year.
Nina Brackett
School Gardening and 4-H Youth Development
University of Arizona Cooperative Extension
More like this story