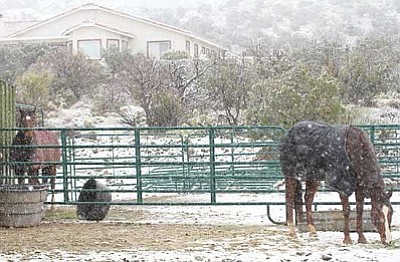 Originally Published: December 2, 2011 6:01 a.m.
KINGMAN - Over the last couple days, Mohave County winds picked up, temperatures dropped and mountains received a salting of snow - but at least we're not in California or Colorado.
According to Weatherbug Meteorologist Dustin Devine, Los Angeles International Airport and 25,000 Los Angeles homes were without power Thursday morning, as reports of 60 plus mph winds have become commonplace throughout the duration of this storm affecting several western states.
There was even a report of 97 mph winds in California. The Los Angeles Times reported Thursday morning that strong winds left 300,000 homes in Southern California without power as well.
Snow has also been a big factor, as forecasters expected a foot of snow to fall in the mountains of Colorado and Utah Thursday.
Here in Mohave County, snows heavy enough to make driving in the mountains miserable affected elevations above 4,000 feet Thursday but should begin to subside - but not completely stop - today. Also, rain pounded lower elevations Thursday, and chances are good that it will continue to do so into the weekend.
Golden Valley Fire Department Chief Ted Martin said winds were very strong Wednesday and Thursday in Golden Valley, but there have been no reports of downed power lines or any other wind-related issues as of yet.
There were reports of 60 mph wind gusts in Bullhead City Thursday, while winds in Golden Valley and Kingman topped out between 30 and 40 mph.
Devine writes that the cause of the weather is a cold front marching south and eastward. Cold air is streaming south and running into a pocket of moisture along the front itself. Also, the combination of the front and a high-pressure system
building in the Pacific Northwest is producing strong winds behind the front, he writes.
National Weather Service Meteorologist Chris Stachelski said the highest winds experienced in the county occurred Thursday but will most likely continue at lower speeds today and Saturday. Mohave County is on the back end of this storm, he said, but a smaller storm looms behind, which will reinforce the cold weather.
"It's not going to warm up," Stachelski said. "And there will still be winds over the weekend."
Today, rain is likely in Kingman and there's a 50-percent chance of showers in Golden Valley, while gusts could reach 28 and 31 mph, respectively. There's a slight chance of rain Saturday in both Kingman and Golden Valley, with an added chance of snow falling below 3,500 feet overnight in Kingman. Both communities should experience mostly sunny weather Sunday, with highs around 46.
So, Kingmanites and Golden Valley dwellers, button up, batten down and bide your time till Sunday.