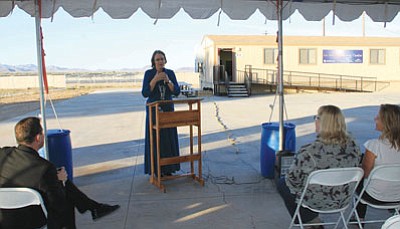 Originally Published: December 5, 2011 6:01 a.m.
The SOLON Corporation and Unisource Energy Services combined forces and recently finished construction of a 1.22-megawatt solar plant and a learning center dedicated to renewable energy at La Senita Elementary.
The plant, the largest on Arizona school property, will provide energy to Kingman and the surrounding area, while the learning center will foster interest and understanding about the ever-changing technology associated with renewable energy.
The solar plant
"In addition to helping UES meet its renewable energy goals, this system will provide an estimated $1 million to $1.5 million impact on the local economy," said Carmine Tilghman, director of renewable resources for UES. "We're grateful that KUSD and La Senita Elementary School share our enthusiasm for this project, and we look forward to developing similar partnerships in the future as we expand our renewable energy resources."
Joseph Barrios, a UES spokesperson, said SOLON was hired to build the solar plant because of its expertise in the area. Mohave County contractors as well as several Arizona companies helped with the installation, and that's where the financial impacts on the community originate, he said.
The overall investment, including the learning center, cost between $4.5 million and $5 million, with about 25 percent going to labor, Barrios said.
Using SOLON to construct the facility made incorporating solar power from the plant into UES's energy portfolio quick and efficient.
The system features six single-axis trackers, utilizing more than 5,000 certified 235-watt solar modules, which are manufactured at SOLON's Tucson headquarters. To help ensure the plant's performance and efficiency, the company is also providing its SCADA system, which enables remote control and monitoring.
The site sits on six acres of Kingman Unified School District property adjacent to La Senita Elementary, which UES took out a 20-year lease on. The company will pay the district $10,000 annually.
At the end of the lease, there is the possibility of renewal, but Barrios said that's too far in the future to predict, as renewable energy technology continuously changes.
"There's 100 different things that could happen between now and then," Barrios said.
Neither the solar plant nor the learning center were paid for with of the renewable-energy-tarriff pot UES customers pay into each month. The investment bill was footed with shareholder dollars, he explained.
Learning center
The learning center, which is ultimately a gift to the community from UES, contains more than 30 hands-on projects students can use. There are are also several kiosks devoted to students looking for answers related to renewable energy.
From first-graders to high school students, there is curriculum within the center that caters all types of students - even junior college and vocational students.
"We could have built an array somewhere else," Barrios said. "But we wanted to create an educational resource to be used by schools and other education programs. We wanted to do it for the community."
For high school students prepared to enter the workforce, the learning center gives them an up-close look at renewable energy technology, expanding the amount of information they're privy to, Barrios said.
Access to the center will be managed by La Senita and the school district.
"This is new," Barrios said. "It's something we have not done before."