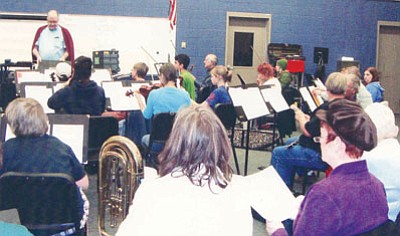 Originally Published: December 6, 2011 6 a.m.
For the second time in 10 years, the Mohave Community Choir and the Mohave Community Orchestra will combine their talents for special Christmastime performances Saturday.
Last year's concert was played before a packed house, according to choir director Roger Johnson. This year, more seats have been added and there will be two performances - a matinee at 3 p.m. and an evening show at 7.
Both concerts are in the Kingman High School auditorium, 4182 Bank Street.
The choir and orchestra will perform several Christmas carols, along with the "Hallelujah" chorus from Handel's Messiah. Each outfit will also perform separately. An audience sing-along will close out the show.
Tickets are available at the door and are a suggested donation of $5 for adults, $3 for children and seniors and $10 for families. Both groups use a percentage of the donations for scholarship funds for students.