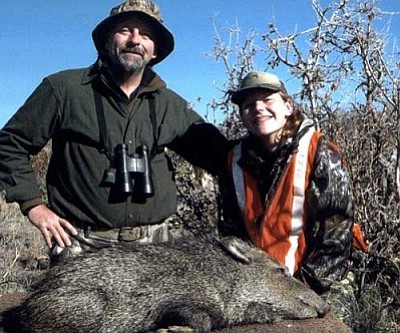 Originally Published: December 7, 2011 6 a.m.
Each year, I am fortunate to share the great outdoors with some special young hunters.
I get the opportunity to watch and teach the youth about what the hunting experience is all about.
These kids don't worry about the size of the animals they are pursuing, unlike many of the older and experienced hunters I go out with.
These young men and women are the pure ones, the future of sport hunting in America, and the ones who are out there to learn and share the hunting experience with family and friends alike.
These kids are like sponges - they are eager to soak up the information they are given.
It is for this reason that most of my favorite hunts are with these young men and women.
This week, I want to share with you one of the greatest hunts I have ever had with a young person.
Allison Kilroy, 13, hails from Maryland.
I first met Allison and her father Ron last year when she drew one of the fall junior's only javelina tags for Unit 18B.
Allison hunted with then AWO guide Mike Cobb, and she bagged her first big game animal - a nice boar - on the second day of her hunt.
Her father then decided to put her in for both javelina and deer tag in 2011.
Cobb told me that the Kilroys were a great father/daughter duo to hunt with, so I hoped Allison would draw a tag or two this year.
As luck would have it, the young lady drew both a pig and a mule deer tag for the juniors-only hunt in 18B.
I hoped to have a fun hunt and the Kilroys did not disappoint.
Allison was a trooper. Never once did she whine, complain, get cranky, or say she wanted to quit during our hunt.
The day before Thanksgiving, the Kilroys got to camp, arriving just in front of Cobb and friends Jeff and Pason McCans, who offered to come out for the first day of their hunt to help scout.
After getting settled in, we all headed out and while we found deer, it appeared that the herd had split into two groups and unfortunately we got on the wrong one.
The next morning, I glassed up a herd of 10 deer that had two good forkies.
We made a heck of a long stalk, but the herd got away without a shot being fired.
As we were heading back to camp, I glassed up another herd of pigs about a thousand yards away. When asked if she wanted to go after them, Allison said with a smile, "Sure!"
Off we went, but when I blew on the varmint/pig call all I managed to do was spook them off without Allison being able to get a shot.
That evening we had a Thanksgiving dinner of ham, mashed potatoes, salad, cranberry sauce and pumpkin pie with whipped cream. It had been a great day and we were indeed thankful for all of our blessings.
The next day, we were joined by my best friend Jay Chan, who is also a long time junior's advocate.
I had a feeling it was going to be another great day.
As usual, Jay found a herd of 10 pigs almost two miles away and when we were about half way there, I said to Allison, "I got good news and bad news. The pigs are still there, but they are over a mile away." Allison just smiled and said, "So, what's new?" and off we went.
Later on, with Ron and Jay watching, Allison put the smack down on a young boar at 158 yards with her 243 rifle.
Later that day, we got onto several groups of deer, but the young hunter didn't get a shot.
The next day, we went out in search of a buck, but Lady Luck didn't smile on us. We still had a wonderful time, seeing a few deer, a pair of Golden Eagles and lots of antelope.
We decided to head out extra early the next day, and when we got set up to glass at dawn, I was rewarded with finding a dandy 3 X 2 buck on a far away ridge.
Soon, a herd of pigs were seen near the buck, and then more deer and two more bucks joined the group.
With Ron being our "eyes in the sky," sitting behind the Swarovski spotting scope, Allison and I headed off for what turned out to be a long and difficult stalk.
Allison got her scope on the closest of the bucks when she noticed a doe was behind him. She did as every ethical sportsman would do, passed on the shot, and the buck and his lady friend scampered away, unscathed.
To show how gutsy this little lady is, as we headed back to camp after the long and demanding hike, I noticed she pulled off a boot and when I asked what was wrong she said, "I got a thorn stuck through the side of my boot when we started off." I asked her why she hadn't said something, that we could have stopped and she could have removed the sticker.
She just smiled and said, "We were on the stalk and I didn't want to stop."
That's the kind of hunter she is: dedicated, determined and with a desire to go on, no matter the obstacles.
I can't wait to see them again next year. Something tells me that if she gets another mule deer tag, there is going to be a buck in a lot of trouble!