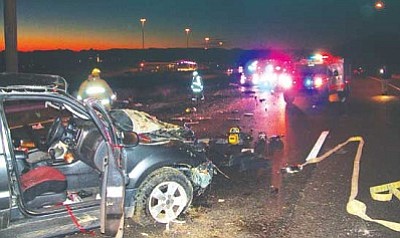 Originally Published: December 9, 2011 6:01 a.m.
KINGMAN - A 23-year-old man critically injured in a rollover accident has died.
Christopher Lawson of Kingman was airlifted to Sunrise Medical Center following the single-vehicle accident Tuesday evening. Department of Public Safety Officer Carrick Cook said Lawson died Wednesday morning of his injuries.
Both Kingman and Golden Valley fire departments responded to the accident, which occurred around 5:30 p.m. near the Port of Entry where U.S. 93 and Highway 68 meet. Golden Valley Fire Chief Tom O'Donohue said Lawson was southbound on U.S. 93 when his vehicle rolled at least once and crossed the median, landing in the northbound lanes of U.S. 93 at the Highway 68 exit.
Traffic was backed up for more than an hour as the patient was treated and the scene investigated.