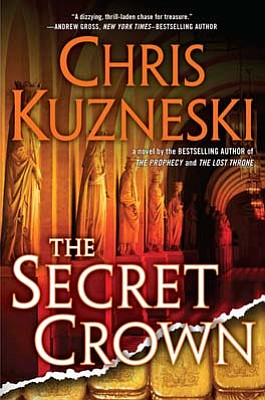 Originally Published: December 11, 2011 6 a.m.
The Secret Crown by Chris Kuzneski; 978-0-399-15745-5; 432 Pages; $25.95; Released January 2012, Hardcover; Published by G. P. Putnam's Sons
Historical fiction blended with thrilling characters in "The Secret Crown," by Chris Kuzneski, will keep you on your toes. Kuzneski's latest thriller is an outstanding continuation of the adventures of David Jones and Jonathon Payne, who are master sleuths with great panache for extreme violence.
Kuzneski is an international best-selling author who has written six acclaimed thrillers including "The Lost Throne," "Sign of the Cross," "Sword of God" and "The Plantation."
The series of novels about the exploits of Payne and Jones continue in "The Secret Crown," where the duo is at their Pittsburgh home with seemingly nothing pressing to do when they are unexpectedly summoned by an old friend from Germany, who reveals little to them when he asks for their help.
Knowing their friend from past encounters, Payne and Jones expect nothing less than an exciting adventure and profit!
Payne and Jones are ex-Special Forces operatives with many talents, which they utilize as they discover a long-hidden stash of treasures buried in a remote location in the Bavarian Alps in Germany.
One of the outstanding features of this book is the authenticity of accurate historical references and the harmonizing of the black swan, an emblem of the Swan King. King Ludwig II of Bavaria placed the emblem onto objects central to the theme of this thriller. History buffs will thoroughly enjoy and appreciate the mastery employed by Kuzneski as he weaves a web of intrigue, which takes readers to various places in Germany, capturing the imaginations of Payne and Jones as they seek to discover Ludwig's hidden treasure, the titular Secret Crown.
During their quest, Payne and Jones are confronted with a treacherous killer who will stop at nothing to recover the mythical crown. The heroic duo also encounters a damsel, who becomes an integral part of the scheme of events.
The action-packed mystery includes a daring rescue scene where Payne and Jones' talents are stretched to the limit when they attempt to save their benefactor. Although the two need to deal with unforeseen and often dangerous situations, there is a certain mix of light-heartedness between them that offers comic relief, making the pair of explorers real.
Seldom do readers have the opportunity to experience excellent visual writing like that of "The Secret Crown." Kuzneski delivers the optical experience on the written pages like very few authors. You can envision the castles, Alps, and helicopters melding together, bringing a collage of centuries past into the present.
This delightful experience can easily script into a kaleidoscope movie enjoyed by fans of Payne and Jones. There will be some vivid scenes of mayhem, but this is to be expected from an action-filled thriller that deserves 5 stars.
"The Secret Crown" is highly recommended along with the previous books in the series.
Publishers Weekly
Best-Sellers
Fiction
1. Explosive Eighteen, Janet Evanovich
2. 11/22/63, Stephen King
3. The Litigators, John Grisham
4. Kill Alex Cross, James Patterson
5. V Is for Vengeance, Sue Grafton
Non-Fiction
1. Steve Jobs, Walter Isaacson
2. Killing Lincoln:
The Shocking Assassination That Changed America Forever, Bill O'Reilly and Martin Dugard
3. Being George Washington, Glenn Beck
4. Unbroken: A World War II Story of Survival, Resilience, and Redemption, Laura Hillenbrand
5. Jack Kennedy: Elusive Hero, Chris Matthews
Clark Isaacs is an accomplished book critic who is published in local newspapers and national book review lists. He is a member of the faculty of MCC. Visit Clark at http://clarkisaacs.ning.com.