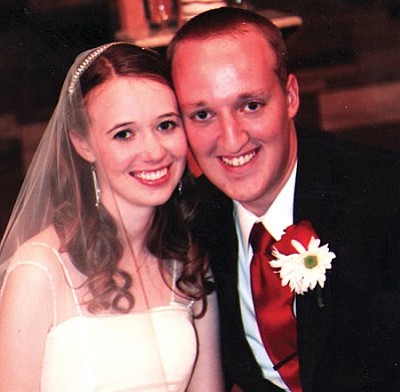 Originally Published: December 11, 2011 6:01 a.m.
On Oct. 1, 2011, Elizabeth Williams married Robert Oplinger at College Park Baptist Church.
Elizabeth is the daughter of Brian and Kay Williams of Kingman. Serving as her maid of honor was her sister Sarah. Bridesmaids were Bekah Raber, Kasha Oplinger (groom's sister), Jordyn and Dani DeWitt. Her flower girl was Acacia Alexander (friend of the couple).
Robert is the son of Robert and Tia Oplinger of Chandler. His brother Barrett served as his best man. Groomsmen were Allen Unger, Brandon Horton, Nicholas and Lucas Williams (bride's brothers). Ring bearer was Calvin Colby (cousin of the groom).
Elizabeth was escorted to the altar and given away by her father. The couple was united in marriage by Pastor Denis Cronkright and Richard Felton.
The ceremony was followed by a reception at Manzanita Baptist Church gym. The happy couple left for a honeymoon in Flagstaff and will reside in Kingman. We wish them a lifetime of happiness.