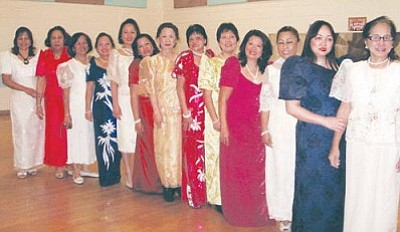 Originally Published: December 18, 2011 6 a.m.
Members of the Filipino-American Club are donating more than 300 pounds of food to the Kingman Aid for Abused People organization.
The donation is part of the Fil-Am holiday pledge drive. Last year, the group raised money for the Moose Lodge.
The Fil-Am organization recently held its Christmas Bash earlier this month at the Powerhouse Visitor's Center where members wore Barong Tagalog and Mestiza Dress, which are traditional Filipino clothing.
The party included Santa Claus, Fil-Am vocalists Maria Cora Kirste and Jennifer Paulsen, Variety Dancers and a "Hot High Heels" contest for the ladies. They also gave a special blessing to all of the troops serving overseas, especially Todd Weyh, Navy, and Kevin De Vera-Davies, Marines, who have helped the club at events when they were young.