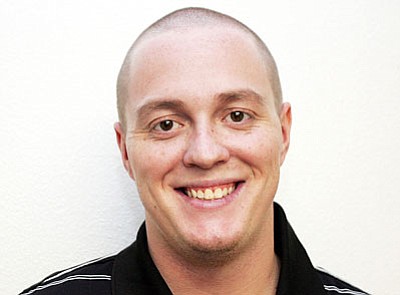 Originally Published: December 25, 2011 6:02 a.m.
Brett Hale, a 2012 candidate for Kingman City Council, is learning that when you run for public office your past becomes a topic of community conversation, speculation and scrutiny.
Hale is homosexual, but sees his attraction to men as a temptation similar to what people go through regarding drugs and alcohol. As a member of Latter-day Saints church, Hale remains faithful to his religion and relies on his faith and family to help him battle his temptations.
Sexual preference aside, Hale - who was 18 at the time - was accused of felony sex abuse in 2005 for allegedly intimately touching his roommate without permission while the man slept.
That charge was eventually dismissed, as Hale pleaded guilty to a lesser charge of misdemeanor assault and received two years of unsupervised probation.
Hale was working as a dispatcher for the Mohave County Sheriff's Office at the time while the alleged victim worked as a corrections officer.
Hale maintains that the two were secretly in a sexually active relationship, and that the alleged incident was not a sexual assault but an altercation stemming from Hale's request to bring their relationship into the open.
According to a Sheriff's Office incident report, however, Hale admitted to touching the man without permission.
"I lied because I didn't want people to think bad about him," Hale said. "I was an idiotic 18-year-old that made a bad decision. There is not one thing in my life that I would change other than this.
The answers to the initial questions should've been honest."
Hale's decision to admit to the accusations was against the advice of another friend, who told him to come out and be honest about his homosexuality and his relationship with the alleged victim, so that people could understand the nature of the situation better.
Hale feared coming out alone but ended up coming clean with his family, friends and church after the fact anyway.
Despite this time in Hale's life appearing on the public stage, Hale still plans on seeking election.
"I plan on rising above the problems," Hale said. "People who were already going to vote for me will still vote for me. To people who are undecided, this shows them that I'm human and that mistakes get made."
Hale said his main goal is to help the community, and he hopes that people can look past this chapter of his life and see him as the overall person he has become.