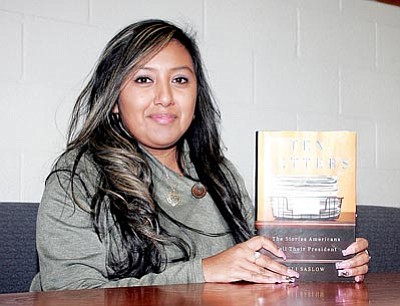 Originally Published: December 27, 2011 6:01 a.m.
Lucy Gutierrez, a Mexican-American who calls Kingman home, wrote a letter to President Barack Obama in 2010, as the heated discussion regarding immigration reached a full boil with the creation of Senate Bill 1070.
Within the letter, she wrote: "I am a U.S. citizen, but I feel like I don't belong here anymore. ... This immigration bill doesn't take effect until July 29th, but to me it feels like it took effect the minute it was signed."
She had seen a video of Obama reading letters written by Americans and learned that he read 10 of them every day. Though she convinced herself he would never read hers, she felt it was important to express her feelings, write the letter and send it off anyway.
She wrote the letter in May. In September, she received a phone call from a woman with the White House. The woman told her Obama had read her letter and that a Washington Post reporter named Eli Saslow was writing a book about 10 people whose letters the president read. Saslow wanted her to be one of those people.
Without hesitation, Gutierrez said she would do it. She received a call from Saslow that night.
"It happened so fast," Gutierrez said. "I thought, 'What did I get myself into?'"
Saslow came to Kingman and spent several days with Gutierrez and her family - following her to work, eating dinner at her home and taking a trip to a Las Vegas swap meet with her.
"He makes you so comfortable," she said. "You just want to talk."
Through her eyes and experiences, Saslow learned how it felt to be a Mexican-American in Kingman during the age of SB 1070. They talked about the time a man walked into her place of business and told her, "We don't want you people here," and the time a waitress at a local restaurant suggested she get dessert somewhere else. They pondered the affect of people wearing T-shirts with, "Why should I have to press 1 for English?"
According to Gutierrez and Saslow, Hispanics left Kingman in droves when SB 1070 was created and signed. Gutierrez was faced with the same decision - to stay or go - and Saslow captured the gut-wrenching process in her chapter of "Ten Letters: The Stories Americans Tell Their President."
Saslow's book delves into the lives of 10 Americans. From Gutierrez and the decision she faced to the staunch conservative Thomas Ritter of Plano, Texas, who believed Obama's policies were ruining America, Saslow breaks through the left-wing, right-wing rhetoric to unveil these people's lives and their struggles. He then juxtaposes their stories with the White House and Obama's decision-making and need to be closer to Americans.
"I feel close to them (the book's subjects) in different ways," Saslow said. "People make a huge impression on me, and I have to portray them in an empathetic enough way, so that people care about their stories."
It's a challenge to take the politics out of the situation, as people get so caught up in the flashpoint issues that have become so divisive, Saslow said.
Most of the book's subjects received responses from Obama, but Gutierrez didn't. However, her letter and ones like it substantiated his fear that SB 1070 would result in racial persecution. Instead of responding with a 100-word letter, Obama responded with action, as he and Arizona Gov. Jan Brewer went toe-to-toe over the legislation.
In the book, Gutierrez comes off as one tough cookie, as she balances work, college, family - she has two young sons - and the decision to stay in Kingman or leave.
Gutierrez said the portrayal was humbling. She knows the trials she has faced in life, but to see it in print - bound in a hardcover - created a new perspective.
"I thought, 'Wow, I'd like to meet this person,'" she said with an endearing smile. "I learned how to be resilient from my mother. She showed me that things don't come easy, and that you have to work for everything. She has always supported and pushed me. This is a country of opportunity, but you have to earn it."
She said her boss at work, who she refers to as "my mentor," plays a major role in her life as well.
After turning the decision over and over in her head for months, Gutierrez decided to stay in Kingman, a town she loves and sees as an idyllic place to raise a family.
She still faces discrimination in Kingman, but maintains that after all the media attention SB 1070 initially received things died down and the community slowly returned to normal.
"The experience of being in the book made me stronger," she said. "I don't let people intimidate me. This is where I live; I love this place."
More like this story