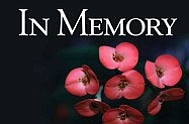 Originally Published: February 1, 2011 6:01 a.m.
Albert Melvin McGrew passed away on Saturday, Jan. 29, at his home in Golden Valley. He was born in Denver on May 19, 1940. He spent his childhood in Southern California and Naches, Wash. He served in the Marines from 1957 to 1961 and in the Army 173rd Airborne from 1961 to 1964.
Al had a 45-year career as a construction taper and sheetrock installer. He ran two businesses over the years, including A&K Construction with his brother, Ken, and Al's Taping.
Al led a very active life and enjoyed camping, boating, fishing, horseshoes, cribbage and gambling. He had many, many friends.
He was preceded in death by his wife, Katherine "Kay" McGrew, and his parents, Clara and Albert McGrew.
He is survived by his brother, Ken McGrew of McMinnville, Ore.; his children, Richard McGrew of Rocklin, Calif., and Sharyl McGrew of El Cerrito, Calif.; and his grandson, Austin. He will be missed.
A memorial service will be held at 3 p.m. Tuesday, Feb. 1, at the VFW Post 3516 at 2826 Wikieup Ave.
More like this story