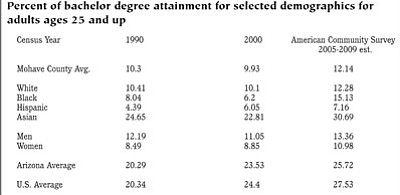 Originally Published: February 3, 2011 6 a.m.
KINGMAN - New data from the U.S. Census American Community Survey shows that Mohave County saw a nearly 25 percent increase in the proportion of adults with bachelor's degrees over the last decade.
The data, which covers the years 2005 through 2009, show that while Mohave County still lags far behind the state and national averages in the proportion of adults with bachelor's degrees, that number has been rising since the previous census in 2000. As of 2009, approximately 12.14 percent of adults age 25 and older in the county have earned a bachelor's degree, up nearly a quarter from 9.93 percent in 2000.
The proportion of bachelor's degree holders rose for both sexes, though men still hold the local edge, with 13.36 percent earning four-year degrees versus just 10.98 percent of women. However, other Arizona counties such as Coconino, Pinal and Apache now have a greater proportion of female degree-holders than male.
Broken down by ethnicity, the county's two smallest racial demographics, blacks and Asians, both have a higher proportion of degree earners among them than either whites or Hispanics, which comprise the vast majority of county residents. More than 30 percent of Asians and 15 percent of blacks in Mohave County hold a bachelor's degree, despite making up only 1.2 and 1.5 percent of the total population, respectively. Conversely, while whites and Hispanics make up about 94 percent of the population, only about 12.3 percent of whites and 7.6 percent of Hispanics have a bachelor's degree.
Despite making some strides over the past decade, Mohave County still remains one of Arizona's least-educated counties, coming ahead of only La Paz and Apache, where fewer than 10 percent of adults hold a bachelor's degree or higher. Mohave's rate of baccalaureate attainment is less than half the state average of 25.72 percent, and barely more than a third the rate of Coconino County, which boasts the state's highest bachelor's degree rate at 30.13 percent.
According to the census data, West Virginia is the state with the lowest proportion of adult bachelor's earners at just 17.08 percent, while Massachusetts has the highest proportion at 37.78 percent. The nationwide rate for bachelor's degree attainment is 27.53 percent.