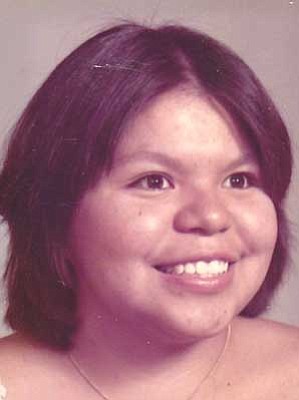 Originally Published: February 4, 2011 6:01 a.m.
Virjeanne Vesta Havatone passed away Saturday, Jan. 29, 2011, in Kingman at the age of 51. She was born on Nov. 18, 1959, in Kingman.
Vesta, as she was known to her family and friends, attended Mohave Community College and was a member of the Church of Jesus Christ of Latter Day Saints.
She leaves behind her two sons, Charlie Brett Havatone and Gizmo Payton Havatone; mother, Malinda Powskey of Peach Springs; brothers, Travis Majenty of Peach Springs and Rory Majenty of Phoenix; sister, Jessica Powskey of Peach Springs; and her uncle, Dayton Havatone of Kingman. She is survived by extended family in Kingman, Peach Springs and Supai. She leaves behind her pet companions, Gizmo Peyton Havatone and Charlie Brett Havatone who were known as her sons.
She was preceded in death by her grandparents, Carter Havatone and Laura Havatone.
Vesta's life will be celebrated at 6 p.m. on Friday, Feb. 4, 2011, at the Hualapai Gym in Peach Springs. Graveside services will be at 9 a.m. Saturday, Feb. 5, 2011, at Valentine Cemetery.
Flowers may be ordered and sent to Hualapai Tribal Gym, 930 Rodeo Drive, Peach Springs. Donations can be made to Yavapai Humane Society of Prescott or Western Arizona Humane Society in Kingman in remembrance of Virjeanne Vesta Havatone.
Submit thoughts and condolences to the family at www.lietz-frazefuneralhome.com. Lietz-Fraze Home & Crematory handled arrangements.