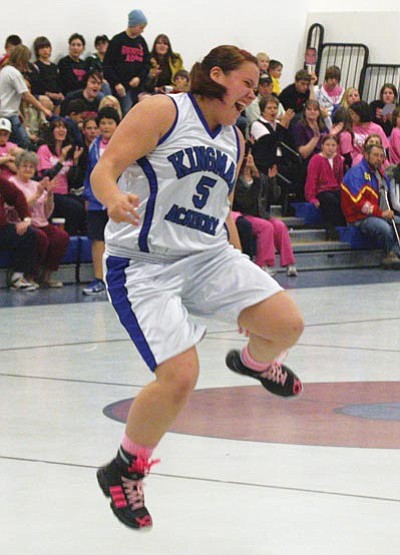 Originally Published: February 6, 2011 6 a.m.
KINGMAN - It was Senior Appreciation Night Friday for the Kingman Academy High girls basketball team, and that was more than enough for Jordan Book.
The senior captain single-handedly outscored Phoenix South Ridge (6-4) with 23 game-high points, and the Tigers cruised to a Charter Athletic Association 3A win, 52-20.
"Jordan is an emotional player," KAHS coach David Scroggins said. "She had one thing on her mind tonight."
Book scored 12 of her points in the opening quarter, as KAHS (13-1, 9-1) rolled to a 21-2 lead on the way toward its 10th consecutive win.
"I wouldn't be anywhere without this guy," Book said, wrapping her arm around Scroggins.
South Ridge outscored the Tigers in the second quarter, 9-7. KAHS answered that with an 11-0 run to open the third en route to a 20-2 period for a 48-13 lead.
"I expected more out of South Ridge," Scroggins said.
Though Book had a stellar game that showed just how big a threat the Tigers are to make a state championship run, senior Laura Barnes departed in her own way. Barnes, a low-post player, nailed a 3-pointer to open the fourth that should give her a favorite memory in her last regular-season home game.
Barnes and senior Kayla Julien both finished with 10.
KAHS plays Scholars (2-3 CAA 2A) Thursday in Quartzsite in a non-conference game, and the Tigers wrap the regular season against Heritage (7-1) in Mesa Friday that should settle who gets the No. 2 seed for the state tournament. Queen Creek EVAC (14-0) is currently No. 1 with wins over both the Tigers and the Heroes.
More like this story