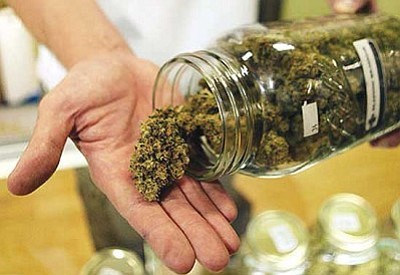 Originally Published: February 10, 2011 6:01 a.m.
KINGMAN - The Board of Supervisors unanimously approved, with one change, an amendment to the county Planning and Zoning Ordinance for medical marijuana dispensaries.
District II Supervisor Tom Sockwell asked that the rules on how far away a dispensary could be from a school or church be changed to reflect the state's standards.
According to the latest draft of the state's proposed medical marijuana rules, dispensaries must be at least 500 feet from the nearest school. There are no state rules regarding how far away a dispensary must be from a residential or commercial area or from a church.
The Mohave County Planning and Zoning Commission had recommended at least 1,000 feet between a dispensary and a school, school bus stop, childcare center, library, public park, church, and any residentially zoned area. It had also recommended all dispensaries must be at least 2,000 feet from another dispensary.
District I Supervisor Gary Watson agreed with Sockwell's suggestion and said if the county adopted the state recommendations it might protect the county from lawsuits.
The city of Kingman Planning and Zoning Commission is considering an option that would limit dispensaries to 100 square feet in size and sales of marijuana to between 10 a.m. and 4 p.m. Monday through Friday. The city's ordinance would allow for the cultivation of marijuana only in a rural/residential zoning districts and would have to be at least 2,500 feet from any alternative residential zoning. Dispensaries would only be allowed in I-2, heavy industrial zoning areas in Kingman and would have to be at least 2,500 feet from any school, place of worship, public park, mental health facility or substance abuse rehabilitation center. It would also have to be at least 2,500 feet from any residentially zoned area. Kingman's commission tabled discussion on the matter on Jan. 11 until the state releases a final copy of the rules.
Lake Havasu City Council also unanimously adopted its zoning ordinance for marijuana dispensaries Feb. 1. Havasu's ordinance prevents the operation of dispensaries within 500 feet of any church, residentially zoned area or public park. It also prohibits dispensaries from being within 1,000 feet of one another. Council added a requirement that dispensaries could not be within 1,000 feet of any schools.
Bullhead City staff is still working on a series of proposals to regulate dispensaries in their community.
A copy of the county ordinance can be found at www.co.mohave.az.us. Click on the "Departments" tab, then on "Development Services," and then on "Planning and Zoning Commission." Scroll to the bottom of the page and click on "meetings for 2011" and look for the agenda book for Jan. 12 Planning and Zoning Commission meeting.
For our online readers, click here for a direct link to the "meetings for 2011" page.
A draft of the state regulations can be found at the ADHS website at www.azdhs.gov/prop203/.