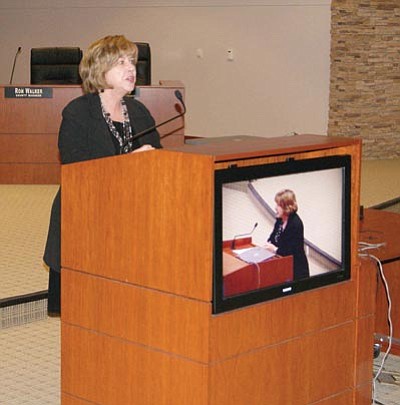 Originally Published: February 17, 2011 6:01 a.m.
KINGMAN - The chief justice of the Arizona Supreme Court held court with Mohave County Court judges and staff Wednesday, Feb. 2, at the beginning of the county's annual two-day COJET (Committee on Judicial Education and Training) Conference.
Chief Justice Rebecca White Berch spoke to more than 200 judges and employees from throughout the Mohave County Court system at the County Administration Building about the state of the Arizona Administrative Office of the Courts, how the Legislature could impact the office, and how she looked at a variety of issues. Berch also answered questions from the audience.
"I like to decide cases," she said. "At the moment, that is a very small part of what I do."
Berch was appointed to the Supreme Court in March of 2002. Her peers on the court elected her to a five-year term as chief justice beginning July 1, 2009.
The last year and a half has been an "exciting" time in "which we faced challenges," she said.
One big challenge has been the cost of the judicial system at a time when the state Legislature is trying to deal with a large debt.
"For the last four years, the court has been responsible in dealing with the Legislature about budgets," she said. Last year, "we came forward, offered a plan and agreed to manage our own cuts. This year, we are asking to not take any more cuts.... Since 2008, we've experienced about $21.8 million in General Fund cuts."
Berch said the AOC also had millions in funds that have then been swept by the Legislature in past years. She discussed the problems that legislative fund sweeps can cause to ongoing case management improvements.
She discussed the courts' five strategic goals and their action plans: Strengthening the administration of justice; maintaining a professional workforce and improving operational efficiencies; improving communications; protecting children, families and communities; and improving the legal profession.
A large percentage of the public lacks knowledge of the system, she said.
According to a recent civics awareness study, "when asked 'What are the three branches of government?' most people answered Democrats, Republicans and Independents," she said. "That is a sad commentary ... We really have lost a lot of the knowledge of our system and how it is supposed to work."
The Constitution sets up the independence of the courts from the other two branches of government, Berch said.