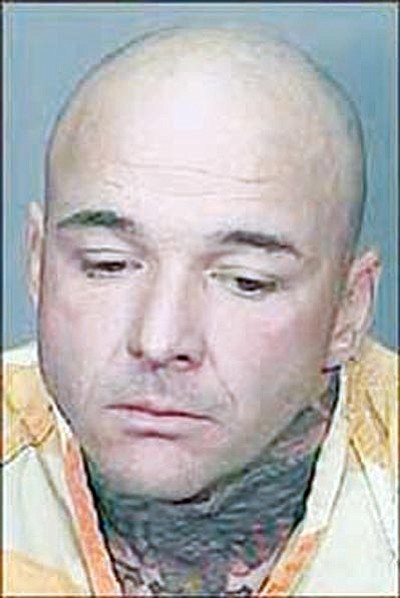 Originally Published: February 17, 2011 6:01 a.m.
KINGMAN - By the time Judge Rick Williams finished handing down prison sentences for each of 47 counts, even the defendant was confused.
Dressed in an orange jumpsuit with one arm shackled to his waist and the other free to take notes, the 38-year-old man asked how many years it all added up to.
"Not that it matters," Chad Weitherow said. "It's more than I can do either way."
Weitherow was sentenced Tuesday to 240 years in prison for his role in a series of home invasions committed by a group of men in March 2009.
"There are going to be murderers out there that have less than a life sentence, and I don't think Mr. Weitherow deserves this," said his attorney, Ray Lundberg.
Weitherow, who had previously served 10 years for two separate armed robbery offenses in Pima County, was released from prison 10 days before the Kingman home invasions. Prosecutor Doug Camacho said Weitherow was living with one of the co-defendants in the case, Christopher Holder, when he went to a party attended by the other suspects. Camacho said Weitherow expressed a desire to rob someone and they settled on their victims, a couple of people they suspected of dealing drugs and the other an ex-girlfriend of one of the suspects. Camacho said the suspects picked the wrong location for the first house and ended up at a neighbor's house instead.
Five victims in total at the three houses were beaten and assaulted. Lundberg pointed out during sentencing that none of the women in the homes had been physically harmed.
Weitherow was arrested after barricading himself inside the last house, which belonged to the ex-girlfriend of Jessie Padilla. Police stormed the home after Weitherow set fire to the living room, causing around $40,000 damage, according to a fire marshal that testified. Co-defendant Patrick Liewer was arrested near the scene after a brief chase, and the others were arrested within days.
Weitherow denied being at the first two homes. He contended he had been slipped methadone in a soft drink by one of the suspects, which resulted in his actions at the third house.
Weitherow was initially charged with 61 counts that included charges of armed robbery, kidnapping, aggravated assault, aggravated robbery, attempted armed robbery, attempted aggravated robbery, burglary in the first degree, criminal damage, misconduct involving weapons and arson of an occupied structure.
He was acquitted of charges involving one of the home invasions but found guilty of the other two following a jury trial last fall that stretched over several weeks.
It took nearly 20 minutes for the jury forms to be read when the verdicts were handed down because of the number of charges.
Camacho had asked the judge to impose 50 years for each of the five victims and another 50 for the arson. He also asked Williams to tack on an additional 25 percent of the total sentence because the invasions occurred while Weitherow was on parole.
Camacho denied Lundberg's charges that Weitherow didn't deserve what amounts to more than a life sentence.
"This is not a case of where this is the first time the defendant has gotten in trouble for doing something wrong," Camacho said, referencing Weitherow's 1999 armed robbery convictions. "In fact, this isn't the second time he's gotten in trouble for doing something wrong. His life has been full of crime. Serious, dangerous, violent crimes."
Williams said he had very little discretion in sentencing because of mandatory statutes for suspects like Weitherow, who are released from prison only to go on to commit more felonies. He ended up giving Weitherow 40 years for each victim, 40 for the arson and declined Camacho's request for the additional 25 percent.
Williams added that the victims, who have all recovered from their injuries with the exception of one man with permanent damage to his hand, suffered a great deal. That includes dealing with the fear of being alone in their own home.
With Weitherow's case finalized, only Padilla is left to stand trial. Patrick Liewer is expected to be sentenced later this month for his part in invasions, and Neil Cannon was sentenced to seven years in prison for his role and a separate armed robbery. Holder was sentenced last year to 18 months, while Mark McLennan is serving a 21-year sentence for the home invasions and a separate robbery.