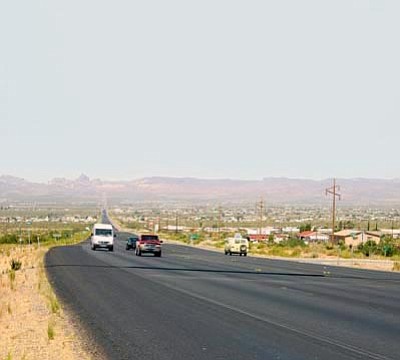 Originally Published: February 17, 2011 6:01 a.m.
GOLDEN VALLEY - Residents of Golden Valley found themselves without power for about an hour Wednesday afternoon. High winds caused a transmission line to pop out of its insulating clip and bump into the pole and other lines, which caused intermittent outages, said Bill DeJulio, general manager for UniSource Energy's Mohave electric operations.
At some point, the line got caught and created a formal outage to about 3,000 customers in Golden Valley and Oatman around 12:45 p.m.
It took crews a while to find the problem in the line because of its path.
The line runs from a substation near Griffith Energy 18 miles over rough country west to Mohave Valley, DeJulio said.
The problem was located near Oatman and energy was returned to Golden Valley around 1:45 p.m. Power was still out to some residents in Oatman and to the Gold Road Mine Wednesday afternoon.