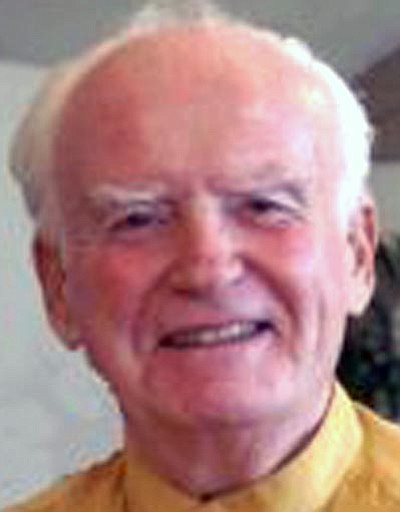 Originally Published: February 20, 2011 6 a.m.
Deacon Bill Del Monaco was born two months premature in Chicago on Dec. 30, 1928, and passed away Tuesday, Feb. 15, 2011. His father was killed by a drunk driver when Bill was six months old. His mother and four brothers went to Mooseheart, Ill., an orphanage sponsored by the Loyal Order of the Moose. Bill was on baseball, football and track teams. He played bassoon in the symphony orchestra and symphonic band, and gave several piano and organ concerts. He was organist for Catholic Church services, and for the yearly Handel's "Messiah" concerts.
After graduation in 1946, he became an organist at the Holy Name Cathedral in Chicago. Bill went to Wright Junior College to pursue a music career. However, he changed vocations to the priesthood and although he completed his studies in Philosophy, Theology, Scriptures and Canon Law at St. Mary's Seminary/University in Maryland and St. John's Seminary/University in Camarillo, Calif., he was not ordained a priest.
Drafted into the Korean War in 1954, he completed electronic schooling on missile guidance systems at Fort Bliss, Texas, and was assigned to an Anti-aircraft Missile Battalion for the Washington/Baltimore Defense Area. There he met his beloved wife, Rita Carroll Keesee. They were married on Oct. 8, 1955. When discharged in 1957, they moved to Thousand Oaks, Calif., where he worked for 14 years as a systems engineer for the Douglas Aircraft Missiles Division. As a field service representative, Bill oversaw the installation of nuclear anti-aircraft missiles around the Cleveland Defense Area, and assisted in supervision of an anti-missile/satellite installation on Johnston Island in the Pacific. After lay-off during the Aerospace slowdown in 1970, Bill worked 18 years for the Bunker-Ramo computer organization on many DOD programs. Taking night classes, Bill received a further degree in Business Management on the GI Bill.
He retired from industry in 1991 and continued as a consultant to the Navy at Point Mugu, Calif., for two more years.
Bill was organist and choir director at his parish church, St. Paschal Baylon, for 10 years. Ordained a Deacon by Cardinal Manning in 1985, he taught religion, visited the sick, baptized some 450 children, performed marriages, funerals, assisted at Sunday and daily Masses, and gave the homily at many of them. He was a member of the Knights of Columbus, the Loyal Order of the Moose, and the American Legion.
In 1991, Bill and Rita moved to Kingman where Bill continued his Deaconate activities at St. Mary's Catholic Church.
Rita died at home in May of 1993.
Bill was preceded in death by his sister, Ruth Mary, and his brother, George. Bill and Rita are survived by their eight children, Mary, Joseph, Richard, Ann, Anthony, Sarah, Paul and Edward; 18 grandchildren, Lauren, Michael, Matthew, Kyle, Bryan, Daniel, Sarah, Meagan, Donald, Kaitlynn, Christopher, Samantha, Gina, Joseph, Amanda, Mackenzie, Kaillie, and Jenn; 22 great-grandchildren, Alyssa, Ryan, Taylor, Brianna, Isaac, Aurora, Cyrus, Braeden, Serenity, Jayson, Ashlynn, Gracie, Daniel, Donald, Dane, Davin, Joshua, Emily, Symphony, Brennan, Tarin; and a great-grandbaby to be.
Bill would like to remember especially Doctor Bokhari, and "my three ladies" at the Del Webb Wellness Center who helped turn his life around after serious heart, kidney, and diabetic problems. They are: Judy Megis, Jenn Lyons and Melissa Palmer.
"They gave me 10 extra years," he said.
Visitation will be from 5 to 7 p.m. with the Rosary at 6:30 p.m. on Friday, Feb. 25, at Sutton Memorial Funeral Home, 1701 Sycamore Ave. The service will be at 10 a.m. on Saturday, Feb. 26, at St. Mary's Catholic Church, 302 E. Spring St. Interment will be at Mountain View Cemetery, 1301 Stockton Hill Road.
I think of Heaven as a garden
Where I shall find again those loved ones
Who have made my world