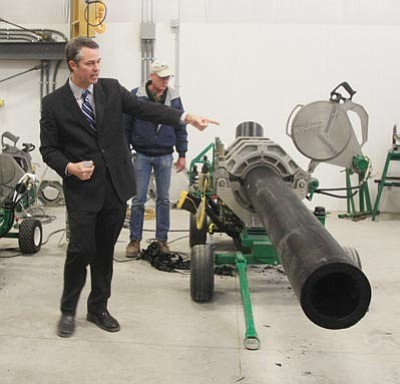 Originally Published: February 20, 2011 6:02 a.m.
KINGMAN - Community and business leaders from around the city turned out at the Kingman Airport Industrial Park Thursday morning for the grand opening of ISCO Industries' newest distribution facility located at 4725 Flightline Drive.
Speaking on behalf of the Louisville, Ky.-based pipe distributor, Chief Operating Officer Mark Kirchdorfer said he was happy to bring the company to Kingman and was looking forward to creating new opportunities here, both for the Kingman-based employees and for ISCO's customers around the world.
"We chose Kingman as our newest site for a full-service facility (because) Kingman is a strategic location for us," Kirchdorfer said. "This is going to be a major hub for all of our West Coast facilities, and we also have a growing international business and see Kingman playing a very important role in helping us sell products worldwide."
Founded in 1962 by Kirchdorfer's father, Jim Kirchdorfer Sr., ISCO has grown from a modest golf course irrigation supply company to the largest distributor of high-density polyethylene pipe in North America. Going over the company's history, Kirchdorfer said ISCO has branched off into other materials, as well as custom HDPE fusion and fabrication for uses ranging from mining, to municipal water and gas, to geothermal energy production and transportation, among many others.
"We service a lot of different industries," he said. "And we're always looking for more opportunities."
Kirchdorfer noted that the presence of a JM Eagle pipe manufacturing facility in the industrial park was another big reason ISCO chose to locate here, given that JM Eagle is one of their largest partners - they manufacture the pipe itself while ISCO stores it for shipment and further customizes it for industrial uses. He added that the Kingman facility already employs eight people and has an immediate need for 10 more, with plans to eventually expand to as many as 50 employees.
"We chose this location here in Kingman with long-term thinking in mind," he said. "And part of that long-term thinking is investing $5 million into this facility - this building is 40,000 square feet, we have a 10-acre site, and we're not using this entire facility today, but we wanted to build the infrastructure here so that we can continue to grow and expand."
He said that one of ISCO's priorities is using local personnel to fill new positions, adding that the company has no plans to fill any of the open positions with managers or other staff from its corporate headquarters. "Our goal is to hire and train local people to run this facility, and we have a lot of confidence in the local workforce here in Kingman and look forward to bringing more people onto our team," he added.
Kirchdorfer said another factor in helping to determine ISCO's move here was the help it received from the community itself, particularly the industrial park's director of economic development, Bob Riley, who assisted ISCO in site analysis, zoning issues and in determining whether or not Kingman was an appropriate location to meet their transportation needs.
"We have 25 facilities around the country, and this is a very business-friendly community," Kirchdorfer said.
Kingman Mayor John Salem said he was proud to have ISCO join the community, adding that the city must continue to capitalize off its location and its proximity to rail, air and truck routes in order to attract skilled industries that create good-paying jobs, which he said will be the key to bringing Kingman out of its economic doldrums.
"What's really going to bring us out of this jam we're in is more industries that can support sustainable jobs," Salem said. "With those jobs, people are going to be able to spend money in the area and support the local economy as well as the regional economy.
"This is a wonderful addition to the Kingman area," he continued, turning to address Kirchdorfer. "Thank you for coming here. We really appreciate it."
According to Riley, retention at the industrial park has been improving in recent months after employment dropped off last year. He said that it may take some time yet for the industrial park to fully recover to its 2,500-strong workforce prior to the housing construction collapse, since so many of the industries there are tied to the housing industry. But he added that attracting companies like ISCO will go a long way toward that goal, especially given the company's interest in using Kingman as a distribution hub for overseas as well as domestic customers.
Mohave County Economic Development Director Travis Lingenfelter agreed, adding that the addition of an international shipping company to the industrial park could be used to draw other such businesses here.
"I think we certainly are a strategic location for California, but if (overseas shipping) is something we can promote, there may be opportunity there," he said.
For more information on available jobs at ISCO's Kingman facility, visit the company's career website at http://iscoindustries.appone.com/ or call Beverly Earney at (502) 318-6648.