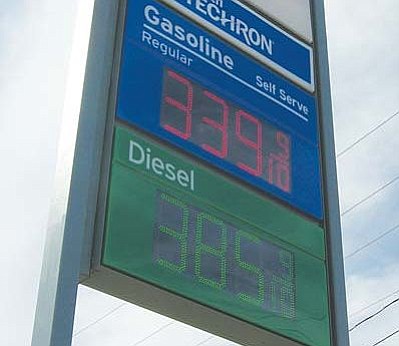 Originally Published: February 22, 2011 6:01 a.m.
KINGMAN - As political unrest continues to spread across the Middle East and Northern Africa, oil and gas prices have similarly continued to rise sharply, and news that the unrest has spread to Libya, a major oil-producing country, is likely to send prices even higher over the coming days.
While U.S. markets were closed Monday for Presidents Day, overseas markets saw oil continue to climb, with U.S. crude oil futures rising as much as 6 percent to over $91 a barrel according to a Reuters report. Several international oil companies also announced Monday their intention to evacuate staff and their families from Libya, following the reported deaths of several hundred anti-government protesters there.
Citizens across Libya have been rallying against the rule of autocrat Moammar Ghadafi over much of the past week, with protests coming to a head Sunday, when government snipers reportedly fired on crowds gathered in the capital of Tripoli. Ghadafi has been the country's sole leader since his 1969 military coup against the ruling constitutional monarchy. The protests there follow similar successful revolutions earlier this year in neighboring Tunisia and Egypt, with other major protests also currently unfolding in Algeria, Bahrain, Iran, Jordan, Morocco and Yemen.
Locally, the protests, combined with other issues related to Gulf Coast refinery maintenance, have helped boost the price of gasoline to its highest level in more than 28 months, according to AAA Arizona spokeswoman Michelle Donati. While the unrest overseas has not had a major physical impact on oil distribution, Donati said the mere suggestion that oil could be impacted is enough to send its price skyward.
"Nothing tangible has happened in terms of supplies, but the threat of something happening in an oil-sensitive region of the world is enough to cause the supply to increase," she said. "If the threat continues or doesn't subside, we could very well see the price of crude oil escalate."
She added that much of the price increase in Arizona has come about specifically due to maintenance issues in the Gulf of Mexico, where Donati said winter storms last week managed to knock several refineries offline.
"That slowed some of the supply coming through our east line and we've had to rely more on the west fuel line, which comes from California," Donati said. "Retail margins in Arizona have dipped pretty substantially as well; in summer months retail margins usually take a dive and stations use them as a loss-leader to get people into their stores. To see retail margins drop in winter is atypical for Arizona, but it ultimately leads to consumers paying more at the pump."
According to the association's Fuel Price Finder website, the price of an average gallon of gas in Kingman has already risen by more than a quarter over the past month, and is now more than 60 cents above where it was this time last year.
The average price for a gallon of regular unleaded in Kingman stood at $3.264 Monday morning, based on the prices at 19 gas stations around town. Prices fluctuated widely depending on where they're located, with the Smith's station at 3490 Stockton Hill Road offering the cheapest gas at $3.059 a gallon while the Mobil station at 3041 Andy Devine Ave. was recorded at $3.459.
Kingman's average remains slightly higher than its nearest neighbors. Bullhead City gas prices averaged $3.184 per gallon Monday morning, while Lake Havasu City averaged $3.238. Statewide prices range from a high of $3.344 in Flagstaff to a low of just $3.095 in Tucson, where the state's two main refined product pipelines converge.