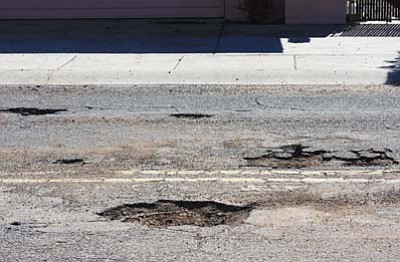 Originally Published: February 23, 2011 6:01 a.m.
KINGMAN - With the 2011-2012 fiscal year looming on the horizon, the Kingman City Council will have difficult decisions to make in the weeks to come. Prior to any major budgeting meetings, however, the public will have an opportunity to make its voice heard at 6 p.m. tonight in a town hall at Hualapai Mountain Medical Center.
Despite conservative budgeting and four straight years of cuts, pay freezes and stopgap measures, 2011 may well be the year of financial reckoning for Kingman. In an interview Tuesday, City Manager Jack Kramer and Finance Administrator Coral Loyd explained that, without a new source of revenue, the city will likely have to begin doing what it has managed to avoid thus far - namely, cutting and reducing the public services Kingmanites have come to expect from the city.
"We think we've been proactive in trying to live within our means, and we have," Loyd said. "But in order to maintain our same level of services, we're going to have to negotiate a new revenue source."
The main issue currently facing the city is one of cash flow: since the start of the recession in 2007, city sales tax revenues have been declining, as have the state funds the Legislature shares with the various cities, towns and county governments. The latter has been perhaps the biggest cause for concern among city staff, since state-shared revenues were the primary funding source for the city's street maintenance department.
Prior to the recession, the city could reliably depend on the state gas tax and lottery revenues to pay for the street department's preventive maintenance program, which was adopted in the 1990s in response to increasing concerns over the state of the city's roads. Since 2007, however, the state Legislature has swept Kingman's share of the lottery revenues and has reduced its share of the gas tax by more than $1.5 million, with additional cuts of at least $90,000 anticipated for the coming year.
Through its conservative budgeting, Loyd said the city was initially able to offset many of the state-shared cuts by dipping into the city's general contingency fund. Now, however, the city is no longer bringing in enough sales tax revenue to maintain the fund and still offset the decline in state revenues. What's worse, Kramer said, is his belief that the state is unlikely to restore those shared revenues anytime soon - if ever.
"That's revenue lost, $1.5 million that we're not going to get back," Kramer said. "It's going to have to be replaced."
Additionally, the city has cut fully $5.2 million and 10 percent of its workforce out of the general fund budget since FY 2007-08, with nearly half of that coming from the city's two biggest spending categories, the police and fire departments. But even despite those cuts, Loyd said police and fire still command more than $12.6 million in annual expenditures - nearly $2 million more than the city expects to receive in local sales tax this fiscal year.
"We're at the point now where we have to protect our financial integrity, our bond rating," she said. "We can't operate a viable city government if something doesn't change."
The question remains what, exactly, should change. As far as Loyd and Kramer are concerned, further cuts aren't much of an option. Even if the city were to abolish every other department covered by the general fund - City Clerk, City Attorney, Human Resources, Development Services, and so on - the savings would fall far short of offsetting the public safety costs, and the city would still be obligated to provide most of the functions covered by the abolished departments, which it would then have to outsource.
Similarly, Loyd argued that the city can ill afford to cut police and fire service any further, having already eliminated seven positions between the two departments, reducing the amount of overtime allowed and delaying necessary purchases of replacement vehicles and supplies. If the city were to cut either department much further, Loyd said, it could have financial consequences elsewhere, particularly in the insurance rates residences and businesses pay.
"The fire department is obligated to have so many personnel," she said. "If we were to cut anyone outside of administration, it would increase response time, which would jeopardize the health and welfare of this community and increase our insurance rate."
Kramer added that, despite the recent cuts to the fire department, overall call volume has still increased by 55 percent over last decade, and as the city grows, that volume will follow suit. Between public safety and street maintenance, he said, it's virtually inevitable that the city will have to raise taxes in order to keep services at their current levels.
"The revenue's got to be replaced somehow," he said. "There's nothing else to take away."
And that's where Council will have to make the tough decisions. According to Mayor John Salem, who plans to attend tonight's meeting, there still isn't enough information from the state to determine whether the city has to pursue a tax increase just yet.
"We're going to try to plan for the worst and be happy with anything better," he said. "We're looking at another million, million-and-a-half dollars that will be lost out of the general fund and we're trying to figure out how to balance that revenue loss."
Salem said he still sees tax increases as an absolute last resort, and would rather pursue whatever remaining cuts are still available, within reason. That's a view shared by Vice Mayor Robin Gordon, who also plans to attend tonight's town hall.
"Personally, the only thing I'd be in favor of looking at is an increase in sales tax, and that would be only if they could be allocated for streets," Gordon said. "But I have to agree the public is not going to be in favor of any of those (tax increase options). I think it's important we get a feel for what the community feels is reasonable."
Tonight's town hall is being sponsored by advocacy group Residents Against Irresponsible Development. For more information, call RAID president Mike Bihuniak at (928) 692-7231.