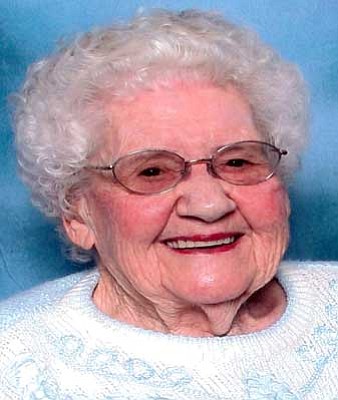 Originally Published: February 25, 2011 6 a.m.
Gladys "Bea" Anderson, 100, of Kingman passed away on Tuesday, Feb. 15, 2011, at Kingman Regional Medical Center in Kingman. She was born May 12, 1910, in Colfax, Ill., a daughter of Fred and Maude Watson Fincham. She married George W. Anderson in Bloomington, Ill. He passed away Aug. 9, 1979.
Bea worked for 20 years as an employee of the McLean County, Ill., Courthouse, working in the treasurer's, circuit clerk's and county clerk's offices. She was also in charge of voter registration under Paul Morris. She was active in politics her entire life. She enjoyed volunteering at Lake Havasu City Samaritan Hospital for a number of years. She was a member of the Daughters of the American Revolution; Hospital Auxiliary; and the Mayflower Society of Arizona, traced back to the lineage of John Tully. Her whole life revolved around her family and spending time with them.
Survivors include her children, William T. Anderson of Florida, Lyle W. Anderson of Shreveport, La., and Avis M. Amann of Kingman; and six grandchildren, David Anderson, William Amann, John Amman, Charles Michael Duvall (deceased), Jeff Anderson and Jennifer Anderson. She was preceded in death by her parents, husband and grandson.
A memorial service for Bea was held Friday, Feb. 18, at St. Johns United Methodist Church in Kingman. A graveside service will be at 2 p.m. Friday, March 11, at Hinthorn Cemetery, Lake Bloomington, Ill. According to her wishes, cremation rites have taken place. Kibler-Smith Memorial Home in Bloomington is in charge of arrangements.
In lieu of flowers, memorial contributions may be made to the General Joseph Bartholomew SAR (Sons of the American Revolution) Chapter's College Scholarship Fund, in care of President J. Gordon Bidner, 5150 E. 2050 North Road, Carlock, IL 61725.
Online condolences may be sent to the family at kiblersmith.com.
More like this story