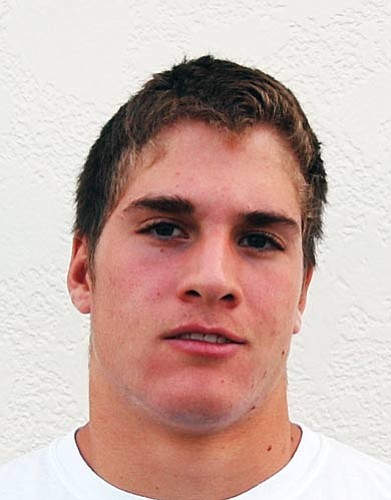 Originally Published: January 2, 2011 6 a.m.
KINGMAN - Senior Keith Milkie continued his dominance in the 215-pound weight division and led the Kingman High wrestling team to an 11th-place finish at the Challenge on the Edge tournament Dec. 21-22 hosted by Goodyear Desert Edge.
Milkie improved to 12-0 when he captured the 215 championship. He went 3-0 at the tournament and won each match by pin. His 12 wins consisted of nine by pin and three by forfeit.
"Those three guys I wrestled are pretty good," Milkie said. "It gave some good indicators about the season, and I felt pretty good after that."
There's no question that Milkie is doing what he's supposed to be doing this season.
"He's having a great year," KHS coach Brandon Clor said. "He's doing everything right. He's getting more comfortable. All the other coaches at the tournament are looking at him as a top-two guy. There's not that many more with his talent."
Milkie pinned Desert Edge's Ryan Ortega in 2:41 in the championship match. Prior to wrestling Milkie, Ortega was 9-1.
"We talked after the match, and he seemed shocked I pinned him so quick," Milkie said. "I did what I had to do."
Since the tournament, Milkie said he's lost 10 pounds after catching a cold. He's looking to bounce back and get ready for a grueling January schedule.
"This is when it's important," the senior said. "It weighs heavy toward state. I need to get ready for the next two months, but I'm not right now. It'll take a lot of work to gain the weight back."
KHS' next highest finisher at the tournament was sophomore Matt Waite at 135. Waite finished third with an 8-2 win over Andrew Capirchio of Fountain Hills and went 3-1 in the tournament.
Another sophomore, Andrew Leyva, placed fifth at 189 when he beat David Probst of Chandler Seton Catholic 5-3 in overtime on a takedown.
"These are a couple who are coming on," Clor said. "Andrew, during both practices and matches, is a little more aggressive and has more confidence. He's not ready to be top caliber guy, but he's getting there. It's what I like to see in a sophomore."
Three freshmen picked up wins at the tournament for the Bulldogs. Dalton Delong (130), C.J. Gore (160) and Jared Brown (171) gave Clor some glimpses into the future.
"We're young, a little green but coming around," the coach said. "We have a lot of work to do. We're winning matches here and there, but not lots of matches. Other teams have four or five guys in the finals, and we're not there yet. It's the nature of having a young team."
KHS resumes the regular season at 6 p.m. Wednesday in Glendale against Mountain Ridge. Clor's main concern is getting his guys back in the wrestling room. Before the holiday break, there were 40 wrestlers, but only 15 were at practice this week.
"We need to get those guys back," he said. "The next month is a hard month with two tournaments and difficult dual meets. We have to come out and be ready to wrestle tough."