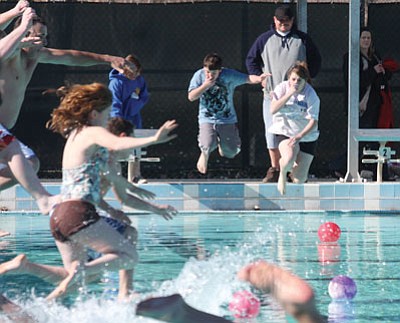 Originally Published: January 3, 2011 6:02 a.m.
KINGMAN - As in years past, those Kingmanites looking for a New Year's Eve fireworks display had to look outside the city limits, but that didn't mean they couldn't still start the year with a bang.
The city of Kingman Parks and Recreation Department hosted the 10th Annual Polar Bear Dip at Centennial Park on Harrison Street at noon Saturday, where dozens of Kingmanites had the chance to strip down, line up, and dive into the icy waters of Centennial Pool.
The annual event has been growing steadily since it was first held in 2001, with last year's turnout the best ever according to Recreation Superintendent Yvonne Cossio.
"We had a little over 100 participants, but that doesn't include the 200 that come and watch," she said.
She did voice some concern about this year's turnout, however, due to the below average temperatures and the poor road conditions leading into Saturday. About 75 people participated in this year's event.
"This is the first time we've had snow on the ground this close to the event," she said.
The weather has also traditionally been in the upper 40s or low 50s, while the National Weather Service expected a high of only 39 degrees on Saturday. Cossio said the water at Centennial Pool was measured at 47 degrees on Wednesday, but she fully expected it to drop by Saturday morning.
But all the same, those conditions gave even more of a chance for brave Kingmanites to show off their endurance. While most divers barely lasted 10 seconds in the frigid water, Cossio said parks department employees had placed various items at the bottom of the pool, such as bricks and balls that could be brought up and redeemed for prizes.
All participants also had the chance to take a warm shower immediately afterward, then relaxed with hot cocoa and popcorn courtesy of Parks and Recreation.