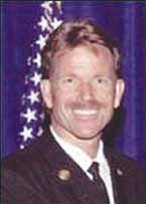 Originally Published: January 7, 2011 6:01 a.m.
KINGMAN - The Golden Valley Fire Department will hold a special meeting at 5 p.m. today to discuss its options after Fire Chief Paul Hewitt tendered his resignation earlier this week.
Hewitt has been hired as the fire chief for the Park City, Utah, Fire Department, a position and area he said he'd been eyeing while working as the battalion chief a short distance away in Salt Lake City before coming here.
Hewitt said the fire chief in Park City had been in the position for 25 years before unexpectedly announcing his retirement last fall. "I thoroughly enjoyed the valley and my position here," Hewitt said.
"My wife and I have talked about vacationing here after we leave. We bought a boat while we were out here. We love Lake Mohave and Lake Havasu. I'll have a soft spot for Golden Valley forever."
Hewitt was officially hired Feb. 11, 2010, and his last day, coincidentally, will be Feb.11. He said he remains committed to the process he started for adding ambulance services to the department. He said he already has permission from the Park City fire board to attend the required Certificate of Necessity hearings in Phoenix on behalf of his former department.
Golden Valley Fire Board Chair Curt Hardy said Hewitt's performance in the last year has been stellar.
"His leadership was unbelievable, and he has amazing communication skills," Hardy said.
Hardy said tonight's meeting will focus on replacing Hewitt. Options include promoting current Assistant Fire Chief Tom O'Donohue or reopening the application process.