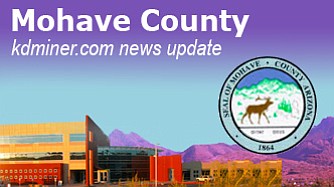 Originally Published: January 7, 2011 6:01 a.m.
KINGMAN - A Mohave County employee is disputing the reasons for her dismissal from the County Human Resources Department.
Liz Albright, a human resources technician for the county, said she and three employees in the County Recorder's Office received a phone call Wednesday morning stating that they had been dismissed from their positions as of 5 p.m. Tuesday and that they would be receiving an official letter detailing the reasons for their dismissal in the mail.
Albright said she was told that the reasons for her dismissal included not telling the truth during an investigation, not cooperating during an investigation and leaking confidential information.
County Public Information Officer Darryle Purcell said the county does not comment on personnel matters. A call to Mohave County Human Resources Director Ray Osuna was not returned.
Albright said the reason for her dismissal is tied to a complaint she filed with the Equal Employment Opportunity Commission against Occupational Health/Benefits Manager Chris Renner in November 2009. She filed the complaint after Renner allegedly repeatedly harassed, intimidated and bullied her, and co-workers told her that Renner had called her several racial slurs behind her back.
"Most people that I work with do not realize that I am Hispanic unless I tell them, but Chris Renner knew, because it is in my insurance file that she has access to," Albright said.
Albright said she told Osuna of Renner's remarks and that she wanted to file a formal grievance against her. She said she filled out the paperwork and tried to give it to Osuna twice. Osuna told her that the paperwork needed to be given to her direct supervisor, but that person was on medical leave and would not return for several months. Osuna was the only person left she could give the paperwork to, she said. She finally left the paperwork on Osuna's desk.
According to Albright, an outside investigator was hired by the county's insurance pool, which falls under the direction of County Risk Manager Richard Weldon. Weldon is the husband of Chris Renner, she said.
Albright said the investigation found that Renner had done nothing wrong and that her attitude was due to her military upbringing. Despite repeated requests, Albright has never been able to get a copy of the official report from the county.
She said her EEOC investigator received a partial copy of the report and had to call the county for a full copy.
"Since I filed my complaint against Chris Renner, I have been under investigation four times for misconduct by Ramon Osuna, (County Risk Manager) Richard Weldon and (County Security Coordinator) Bob Prince," Albright said. "They (have) not found anything that I have done wrong, but I am continually placed under investigation for this or that."
One such investigation dealt with a comment that Albright said to a co-worker. She told the co-worker that she was concerned about Renner's temper, that Renner had a tendency to rush at people when she was angry and she was afraid that she might be struck and she was prepared to use pepper spray to defend herself.
Albright received a reprimand for the comment.
She was also questioned about several comments that were allegedly posted by a county employee on the Miner website. One of the comments alleged that the county had asked employees to flood the site with positive comments about the county, she said. Another comment allegedly posted to the site stated that a candidate for an investigative position with the county was related to Weldon, Albright said.
She said when she found out that the candidate was related to Weldon, she told Osuna that Weldon should have nothing to do with the screening of the candidates for the position. Otherwise, the department would have a mess on its hands.
Albright said Osuna told her that issue had been taken out of his hands and was under the control of the County Manager's Office.
An investigation was started in both the Human Resources Department and the Recorder's Office to determine who had posted the comments, she said. Albright said she was asked repeatedly if she had posted the comments on the site, even after the employee who did so came forward and admitted to it.
She denies posting any of the comments on the site and said she has never leaked any confidential information about any employee to the public. She didn't even know who the candidates were for the investigator position until someone mentioned it to her. Albright also said she didn't have access to the files that the candidate information was kept in.
Finally, on Nov. 1, Albright said she was called into Osuna's office and was told that she needed to read and sign a document and then report to the Mohave County Sheriff's Office for a polygraph exam.
"I advised Ramon Osuna I was not going to read or sign the document and that this conversation was over and I was leaving. I got up and started to walk toward the exit door and Ramon Osuna rolled his chair in front of the door and stated, 'You're not leaving and I'm going to read the document," Albright said.
She said she was afraid of being locked into the office with Renner and picked up the phone on Osuna's desk and dialed 911.
"I advised the dispatcher who I was, where I was, that I was being held against my will, and requested the police," Albright said.
After placing the call, Albright said she was allowed to leave the office. She told the person at the department's front desk that she was expecting police to arrive and returned to her desk.
"Chris Renner then came to my desk and told me I was being placed on administrative leave and she was going to escort me out of the building," she said. She left the building, went to the Sheriff's Office and filed a report. Albright's husband is a deputy at the office.
According to the report, the deputy arrived after Albright was escorted from the building. The deputy asked Osuna and Renner what had happened.
According to the report, Osuna told the deputy that the three of them were in his office with the door closed when he presented Albright with the personal form and asked her to read and sign it. She refused to do so and he attempted to read it to her, but she kept interrupting him and then stood up and said that she was having no part of it. He told the deputy that Albright then picked up the phone and called 911.
According to the report, Renner confirmed what Osuna told the deputy. She also said that she told Albright, while she was on the phone, that no one was holding her there and she could leave if she wanted to. She also confirmed that she told Albright that she was being placed on administrative leave and escorted her out of the building.
"During my conversations with Osuna and Renner, both denied that anyone forcefully refused to allow Albright to leave the office or even told her that she could not leave. Osuna advised me that Albright could have walked around him to leave through the office door at any time, he wasn't blocking it or preventing her from leaving," the deputy wrote in his report. "In viewing the layout of Director Osuna's office and knowing where everyone was seated, Osuna would most likely have had to move his chair away from the table and step up and toward the door. His chair may have even had to be slid close to the door in order for him to stand up."
Albright requested that charges be filed against Osuna and Renner. The deputy submitted the case to the Mohave County Attorney's Office for further review.
Albright said she was told by the County Attorney's Office that the matter had been handed over to the city of Kingman's Attorney's Office. She contacted an attorney at the office and was told that they would look into the matter.
She said the city attorney called her back at 3 p.m. on Nov. 16 and "advised me that he was going to file charges against Osuna and Renner for unlawful imprisonment and harassment. At 4:30 p.m. that same day, the same attorney called back and stated there would be no criminal charges filed."
Albright said she contacted the Arizona Attorney General's Office and was told to hire a private attorney.
"I don't have the money to hire a private attorney. Nobody wants to do anything about this," she said.
Albright said she has had her administrative leave continued several times since Nov. 1. At one point, she was not notified that the department had continued her leave until she arrived for work and found her identification badge would not work. She has also had her request for a copy of the investigation of the Recorder's Office denied.
She said she has worked for the county for the last six years and in human resources for many years.
"How unprofessional is it to dismiss someone from their job over the phone?" she said.
"I've had to dismiss people from their jobs and I've always done it face to face. How disrespectful to do that to someone over the phone."
Albright said she plans to fight the county "tooth and nail."
"This (the harassment) has been going on for two years. They don't quit. They'll find anything to get you on," she said. "Someone needs to stop them. Someone needs to tell (County Manager Ron) Walker he is not a king."