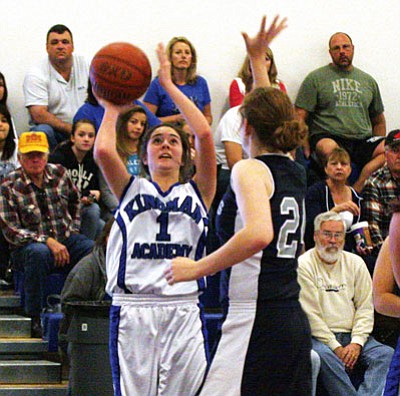 Originally Published: January 10, 2011 6:01 a.m.
KINGMAN - Queen Creek EVAC overcame nine-point deficits in both the first and third quarters to pull off a thrilling 42-41 win over the Kingman Academy High girls basketball team Saturday at KAHS.
"We had plenty of opportunities," KAHS coach David Scroggins said. "We'll be where we need to be by the end of the year."
Close games with EVAC (4-0, CAA 3A Eastern) are becoming a tradition between the schools. EVAC beat KAHS in the regular season last year by two and then beat the Lady Tigers in overtime by one for the state championship.
This time, KAHS (3-1, CAA 3A Western) jumped out to a quick 14-5 lead in less then four minutes, as the Lady Eagles tried to settle into a zone defense. After a timeout, EVAC switched to a man defense and the flow of the game quickly changed.
"We try to run a very simple offense," Scroggins said. "We go over it and over it in practice. In games, it seems we completely forget it."
EVAC pulled within three by the end of first, 16-13, and tied it up with five minutes left in the half. KAHS finished the half on a 6-2 run to lead, 22-18.
The third quarter started out just like the first did, and the Lady Tigers led 27-18 after two minutes. EVAC finished the quarter with an 8-1 run to narrow the lead, 28-26.
The fourth quarter went back and forth with the game tied three separate times and with three lead changes. Two of the lead changes came in the final minute.
KAHS was down 40-38 with 46 seconds remaining when senior Jordan Book hit a 3-pointer to put the Lady Tigers up by one. EVAC scored on a 19-foot jumper with five seconds left to retake the lead, 42-41.
After a timeout, EVAC pressured KAHS and didn't allow the Lady Tigers to get off a final shot.
"It might be the other teams we play," Scroggins said. "But when we play against someone good like EVAC, we can't do the things we can against the others."
Book led KAHS with 15 points, senior Kayla Julien scored 13 and freshman Ashlea Tomlinson added six.
KAHS hosts Bullhead City MALC (1-2) at 7 p.m. Tuesday in a non-conference game.