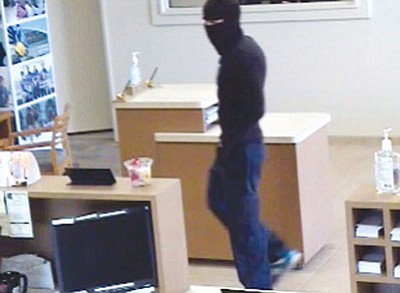 Originally Published: January 16, 2011 6:01 a.m.
KINGMAN - The man arrested Thursday for robbing a Golden Valley bank this week served five years in prison for the armed robbery of the Stockmen's Bank in 2000.
An un-disclosed amount of cash was reportedly found in a truck driven by 28-year-old Keith Brandon Coggins after he demanded money from a teller at the National Bank of Arizona in Golden Valley around 1:45 p.m. Thursday.
Mohave County Spokeswoman Trish Carter said Coggins fled in a black older model Chevrolet truck with an Arizona license plate that was located by deputies responding to the scene.
Carter said Coggins took off once he saw law enforcement but ended up losing control of his truck and spinning out.
He sustained minor injuries but took off on foot. He was found hiding behind a rock cropping near a hill in the area of Tapeats Drive and Guthrie Road.
The capture was similar to that of serial robber Victor Malaro, who had also robbed the National Bank of Arizona in Golden Valley and was caught by authorities while trying to hide behind a hill in the desert. He was sentenced last spring to 26 years in prison.
Coggins was booked into the Mohave County Jail on charges of felony robbery, theft and unlawful flight from law enforcement.