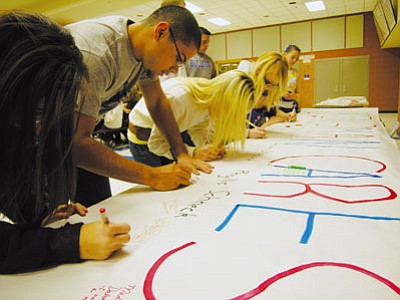 Originally Published: January 16, 2011 6:01 a.m.
KINGMAN - With the nation still trying to make sense of the violence in Tucson last weekend, students at Kingman High School are giving the community a chance to send its collective condolences to the victims and their families.
KHS juniors Dakota Snider and Kelsey Rendon, both members of the high school's Guide Dawgs program, have created a pair of banners with the phrase "Kingman Cares" that the students hope to send to the office of Tucson Congresswoman Gabrielle Giffords and to the state Capitol expressing regret and well-wishes for victims of the Jan. 8 shooting that left six dead and more than a dozen wounded.
Snider said the idea occurred to him Friday morning after a week of frustration. While the shooting had weighed heavily on his and his classmates' minds, nobody seemed to be doing anything about it.
"It really bothered me earlier on in the week since we felt that Kingman hadn't done anything to honor the victims," he said. "We wanted to do our part."
So Snider and Rendon showed up at school early Friday morning to draw up a pair of large banners, one addressed to Giffords, the other to the families of the six victims who died. They unveiled the banners in the KHS cafeteria during lunch Friday, and within minutes, several dozen students had come up to write messages of hope and concern on them.
"I'm proud that they want to reach out," said KHS Principal Pat Mickelson. "They recognize they're part of a bigger community, and I'm proud of that."
Senior Airyell Symonds was among the first to sign the banners. She said the shooting made her concerned for the safety of other elected officials, whom she said needed to feel safe from similar such events.
"It's kind of scary," she said. "They should be more protected when they do speeches like that."
Symonds also denounced the Topeka, Kan.-based Westboro Baptist Church, whose members announced shortly after the shooting that they intended to protest the funerals of the victims. The church, which is well known for its extreme anti-gay views and its frequent protesting of funerals bearing signs with slogans like "God hates fags," has since decided not to go through with its planned protests, according to a Thursday report published in the Tucson Sentinel.
Another student who signed the banners, senior Sam Michel, said he understood the political tone in the country has gotten increasingly caustic in recent years, but he argued that to go to the extremes accused gunman Jared Loughner did was simply "ridiculous."
"I hope people do come together to fight this," he said. "Not with guns but through words and with the power of our voice."
Snider and Rendon agreed that they hoped the shooting gives people a chance to look upon both their lives and their neighbors' with a new respect.
"I just can't imagine what it must be for these people in Tucson to have such a mass shooting in a place you may go to every day," Rendon said. "I hope we can pull together and come through this united."
"I'm hoping it widens people's vision to the dangers of what's going on right now," Snider added. "Because there's not only terrors outside our country, but terrors inside as well, and (we should) take life day by day, because you never know if you're not going to be here the next."
While Friday's signing was meant for KHS students, the school plans to open the banners up to the whole community to sign during the next boys basketball game this coming Tuesday. While the game goes on in the gymnasium, the banners will remain on display in the neighboring cafeteria from 4 to 9 p.m. for anyone to write on. Snider and Rendon will also be taking donations to cover the cost of mailing the banners to Tucson and Phoenix.