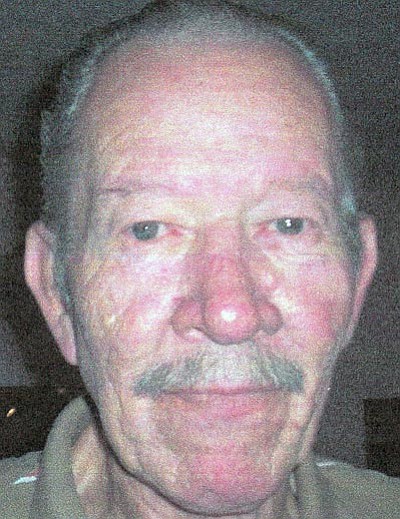 Originally Published: January 16, 2011 6 a.m.
Junior Lee Caton, 76, passed away on Monday, Jan. 10, 2011, at his residence. He was born Aug. 15, 1934, in Julesburg, Colo., to Milo and Pauline (Bothel) Caton.
Following high school, Junior began a career in the military, culminating with his retirement after 21-1/2 years of service as a tech sergeant with the United States Air Force.
Junior and his wife Kathy moved to Kingman 15-1/2 years ago from Tampa, Fla. Among his hobbies were golf, playing pool, woodworking and gambling. He was a member of the Disabled American Veterans and the American Legion.
Junior leaves behind his loving wife of 40 years, Kathy; stepson, David (Linda) Schoss of Pleasant View, Utah; daughter, Kallee (Eddie) Beasley of Kingman; stepdaughters, Heidi (Tony) Gibson of Willoughby, Ohio, Melany (Wade) Hillstead of Warren, Utah, and Karen Sharp of Lutz, Fla.; brothers, Bob (Billie) Caton and Jim (Charlotte) Caton, all of Yakima, Wash.; brother-in-law Harold Goldsmith of Moses Lake, Wash.; 11 grandchildren; 14 great-grandchildren; and numerous nieces, nephews, aunts, uncles, cousins and friends. He was preceded in death by his parents and sister, Dorothy Goldsmith.
Funeral services will be held at 1:20 p.m. on Wednesday, Jan. 19, at the Southern Nevada Veterans Memorial Cemetery, 1900 Buchanan Way, Boulder, City. Military honors will be performed by the Nellis Air Force Base Honor Guard.
In lieu of flowers, donations may be made in Junior's name to the ASPCA, the American Heart Association or the American Cancer Society. Thoughts and condolences may be submitted to the family at www.lietz-frazefuneralhome.com. Lietz-Fraze Funeral Home and Crematory handled arrangements.