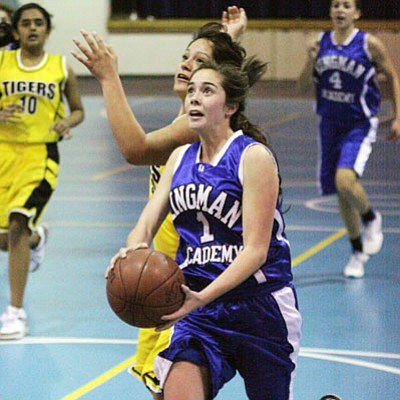 Originally Published: January 17, 2011 6:01 a.m.
KINGMAN - It didn't take long for the Kingman Academy girls basketball team to recover from their first loss of the season on Jan. 8.
Since then, the Lady Tigers put three more notches on their belt with 48-6 wins over Bullhead City MALC and Lake Havasu Telesis, and wrapped up the week with a 39-16 win over Charter Athletic Association 3A No. 2 ranked South Ridge in Phoenix Friday.
South Ridge (4-2) came in with a good start to its season, but it wasn't ready for KAHS' Kayla Julien. The senior scored 19 of the Lady Tigers' 39 points.
"Thank goodness she was on fire," KAHS coach David Scroggins said. "She was everywhere getting steals, making layups, grabbing rebounds and scoring putbacks."
KAHS (6-1, 4-1 CAA) had a good-and-bad first half. Though the Lady Tigers led 17-8 at the break, it could have been a larger lead. KAHS' full-court pressure perplexed the Lady Mavericks, but the Lady Tigers had a hard time converting.
"We couldn't hold onto the ball," the coach said. "We should have scored 70 points. It was just an unfocused game."
KAHS outscored South Ridge in the third, 16-2, to put the game away. Scroggins abandoned the press and had the Lady Tigers fall back into a zone defense.
"I think South Ridge got tired in the second half," he said. "We gave less pressure and scored more points."
In KAHS' win over MALC (2-3, CAA 2A) on Tuesday, Julien, Ashlea Tomlinson and Juleigh Long each scored six to lead the Lady Tigers, and Jordan Book added five.
KAHS bounced Telesis (1-3 CAA 2A) behind Book's 11. Julien added nine and Long finished with six.
The Lady Tigers will host Phoenix NFL (0-2 CAA 3A) Saturday, Jan. 22, in their next game. Tip-off time has not been announced.
More like this story