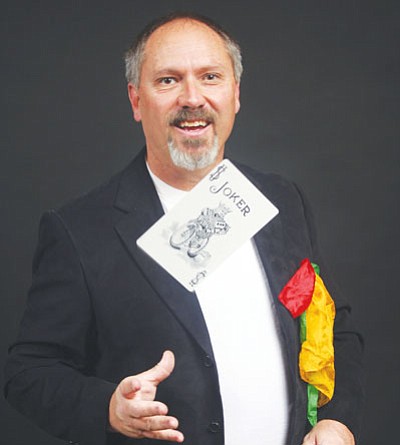 Originally Published: January 18, 2011 6:01 a.m.
KINGMAN - Bob Peet has opened for Robin Williams, Dennis Miller and Sam Kinison - comedians with an edge to them - but his upcoming comedy and magic show will cater to a family-friendly audience.
"There's nothing even remotely naughty," he said. "It's as squeaky clean as can be."
That's not the way it's always been, Peet admits. Peet moved to Kingman when he was a kid and graduated from high school here in 1979 before moving away to work as a standup comedian.
He later returned to Kingman, and in 2000, opened a nightclub under his nickname, Tequila Bob. He admits the eight years of ownership took its toll, until one day he picked a random night to gauge whether to keep the club open.
Several bands were booked for the evening, the club was packed and it seemed like a normal night until around 11:30 p.m., when a woman pulled up in a U-Haul and her bleeding husband fell out. The man had been stabbed in a fight and the woman, being new to town, had been driving around looking for a hospital when she pulled into the Tequila Bob's parking lot. Multiple police agencies responded and the club closed early.
"I thought, 'If this isn't a sign from God to close the doors, I don't know what is,'" Peet said. "(Owning a bar) didn't fit what was going on in my heart anymore."
Peet joined the Praise Chapel congregation in 2006. He said it's much more important to practice kindness rather than just preach it. He continues to perform under his stage name, "The Amazing Captain Stoopid," which he earned during his career as a motorcycle stuntman. He said Friday's show will be light on the magic and heavy on the comedy.
"The idea is for people to be able to share an evening geared toward the whole family," he said.
Comedy and Magic Show
• 7 p.m. Friday, Jan. 21
• Praise Chapel, 419 Harrison St.
• Free
More like this story