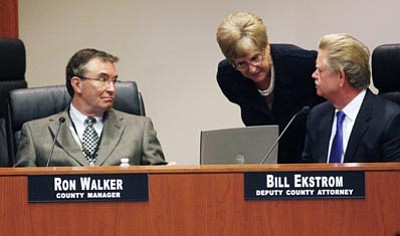 Originally Published: January 19, 2011 6:02 a.m.
KINGMAN - The Board of Supervisors once again approved County Manager Ron Walker's contract by a 2 to 1 vote. District I Supervisor Gary Watson voted against it.
The Board held a special meeting to discuss renewing Walker's contract after its regular meeting Tuesday morning.
Shortly after the special meeting was called at 11 a.m., the Board convened into an executive session with Walker and Deputy County Attorney Bill Ekstrom. The Board returned about 25 minutes later.
District II Supervisor Tom Sockwell made a motion to extend Walker's current contract for another year and half starting June 3. The crowd of around 50 people waited to see who would second the motion. After a few minutes, Board Chairman Buster Johnson seconded the motion for discussion. No one from the Board said anything and the public was not invited to speak on the issue.
Johnson then called for a roll call vote and Walker's contract was renewed for another year and a half.
This was the first time in the last three years that Johnson has voted to approve renewing Walker's contract. He voted against renewing it in 2008 and again in 2009.
In 2009, Johnson actually asked for an independent investigator to look into Walker's actions.
At that time, he alleged that Walker had not kept the supervisors and their staff informed of agenda items and other concerns in the county in a timely fashion. He also alleged that Walker had threatened the heads of county offices and made derogatory comments about county officials; failed to provide complete and accurate backup material to Board agenda items, which could have violated open meeting laws; failed to get approval from the Board before moving funds from one office to another; and failed to allow department heads to make suggestions without fear of reprisal. At that time, Johnson also disagreed with Walker's handling of employee complaints. He also suggested that Walker might have used county time for personal business or in the aid of a private corporation.
Walker denied the allegations at that time and no investigation was done.
According to information from the county, Walker's contract was not changed from his previous contract, which was signed in January 2009. That contract set his salary at $170,789.
It is an at-will contract, which means that the Board can terminate his contract at any time, however, the Board must give Walker 60 days written notice.
According to the contract, if Walker is let go by the Board, he is entitled to a year's worth of his current salary, benefits, paid holidays and personal time-off.
In his duties as county manager, Walker is entitled to a company vehicle, as well as the same health and life insurance benefits of other department heads. He also agrees to a yearly physical by a qualified physician.
The county also pays for Walker's membership in public management association groups, travel expenses for professional meetings, professional magazines and newsletter subscriptions and all necessary and ordinary business expenses incurred during his duties as county manager.
Walker is also supposed to meet with the board annually to establish goals and objectives.
The county is also supposed to pay for any legal representation Walker may need in defense of his duties as county manager.