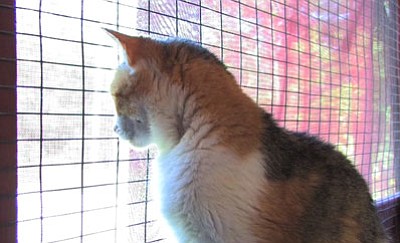 Originally Published: January 21, 2011 6:01 a.m.
KINGMAN - Barring a successful legal challenge, the county's newly revised ordinances governing animal care will not be on the ballot this year.
The Mohave County Elections Department confirmed Thursday that the Repeal Animal Ordinance Committee, which was composed of several different local animal rescue organizations, did not have enough valid signatures to put the issue on the ballot. The committee came up 163 valid signatures short.
In an e-mail to the Miner Thursday, Hillarie Allison, one of the Repeal Animal Committee members, said that the group plans to seek legal representation for a judicial review on the petitions that were thrown out due to a notary error.
The committee and several other pet rescue organizations have protested the changes made to the county's Animal Control, Planning and Zoning and Environmental Health ordinances in October and circulated petitions in hopes of bringing the issue to the ballot.
The changes to the ordinances included more specific definitions of
kennels as short-term and long-term care facilities, the space requirements and materials that a kennel can be made of, medical and adoption/sale record-keeping standards, what type of containers animals can be fed from and more.
The animal rescue organizations and the committee said the changes were arbitrary and the cost to implement them would put the organizations out of business.
The county committee that proposed the revised ordinances said changes were designed to protect the welfare of pets in Mohave County.
The Guardian Angels for Pets and the Repeal Animal Ordinance Committee, along with several other pet rescue organizations, turned in more than 5,455 signatures Nov. 4 to have the changes to the ordinances put on a ballot for voters to decide. Some petition sheets that were not legally notarized were thrown out, as mandated by state law, said Mohave County Elections Director Allen Tempert. The Elections Department then selected the random sample of 256 signatures of the 5,101 signatures left to send to the Voter Registration Office.
There were three possible outcomes from the random sample verification process by the Voter Registration Office, Tempert said: There would be enough valid signatures to put the issue on the ballot; there wouldn't be enough signatures to put the issue on the ballot; or a middle road, not enough valid signatures in the sample to do either. In that case, all of the signatures are checked to see if they are valid.
The Voter Registration Office invalidated 23 of the 256 signatures in December, which required that all signatures be sent to the Voter Registration Office to check their validity, Tempert said. Of the 5,101 signatures submitted, 461 were not registered voters. Other issues included invalid dates, duplicate signatures, lack of residential addresses and different signatures.
The organizations needed 4,618 valid signatures in order to put it on the next ballot and came up 163 signatures short.