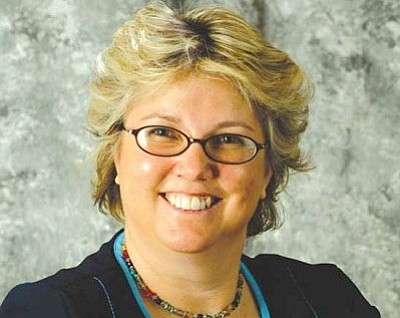 Originally Published: January 21, 2011 6:01 a.m.
KINGMAN - Mohave County Superintendent of Schools Mike File on Thursday announced his appointment of Laurie Barthlow to replace Terri McMullen on the Kingman Unified School District's governing board. McMullen resigned from the board earlier this month, citing scheduling conflicts.
Barthlow had been one of two names submitted to File by the governing board at its budget meeting Tuesday morning. She had been the favored candidate of board members Jeri Brock and Bill Goodale, while Charles Lucero and board president Pat Carlin had recommended former board member Margaret Libertini, who lost her seat to Brock in last November's elections.
A third-generation Kingman native, Barthlow was one of about 10 people who submitted a letter of interest to the board following McMullen's resignation Jan. 6. A graduate of the Kingman High School class of 1981, she earned a double major in Russian and German from the University of Arizona in 1985, with a minor in general business, according to the resume she submitted to the board.
After working in Tucson for several years, she
returned to Kingman in 1989 and began working for the Chicago Title Insurance Company, eventually working her way up to the position of vice president and area manager for all branches in both La Paz and Mohave counties, a position she has held for the past 13 years.
Barthlow indicated that while she has no formal expertise in education, she does have two daughters who currently attend KUSD schools, and she feels her extensive background in administration and business management will be a boon to the board, especially given its recent struggles with state budget cuts.
Barthlow was out of town at a business meeting Thursday afternoon, and was not immediately available for comment. Once she takes her place on the board, she will serve the remainder of McMullen's term, which runs through December 2012.