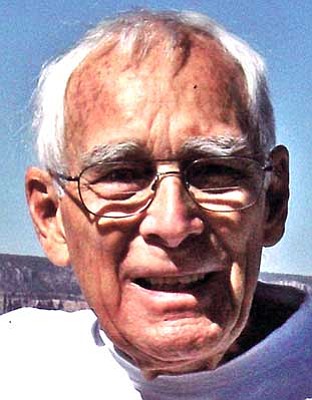 Originally Published: January 21, 2011 6 a.m.
With family by his bed, Frederick William Golding passed away Monday, Jan. 17, 2011. He was born in Kingman on Feb. 25, 1929. He was 81 years old.
Fred was many things. He was a husband and a father, a grandfather and a great-grandfather. He was a hunter and a world traveler. He was also a Korean War veteran in the Navy. In his 81 years, he made many memories that the family will always hold dear. The beautiful places and experiences he shared with his wife and family are there to remind us of who he truly was and help set an example of who we should hope to be.
He is survived by his wife of 57 years, Shelly; his children, Stephen and Melva Golding, Michael and Patti Golding, Carol Smith, and Christina and Warren Watson. He left behind grandchildren, Jason and Ulla, Gordon and Sarah, Taryn and Scott, Jerome and Rebecca, Dan and Devin, Savanna, Cheyenne, and Cody; and his great-grandchildren, Drake, Kassandra, TerraJade, Dillon, Christian, and Ethan. He has also left behind many other family and friends.
Services are not planned at this time. The family would like to suggest donations in Fred's honor be made to the Joan and Diana Hospice House, 812 Airway Ave., Kingman, AZ 86409, or the Kingman Cancer Care Center, 1790 Sycamore Ave., Kingman, AZ 86409.
The family would also like to thank the kindness shown to Fred in the last part of his life by the wonderful nurses and staff from both centers.
"Oh, won't you come with me and take my hand. Oh, won't you come with me and walk this land. Please take my hand."