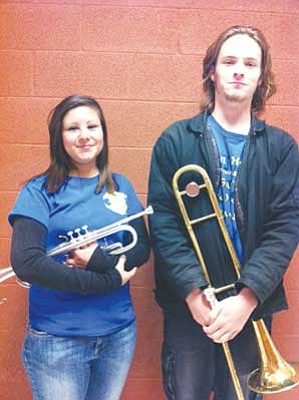 Originally Published: January 21, 2011 6:01 a.m.
KINGMAN - Kingman High School's band program added two more feathers to its cap earlier this month when a pair of the school's jazz band students was selected to play in the all-state jazz ensemble.
Tyler McAtee and Destini Brantley were selected from among the more than 250 entrants from around the state to converge on Phoenix Jan. 8 for the All-State Jazz Audition Festival. Bradley was selected for the All-State Jazz Big Band I while McAtee made the cut for the All-State Jazz Big Band II.
"It's very difficult to get in because it is an all-state thing, and they have to specialize with the jazz," said KHS band director Michael Schreiber. "And a lot of the Phoenix schools are just monster jazz schools with huge programs and lots of resources."
Bradley and McAtee were two of about a dozen KHS jazz band students to attend the festival. Schreiber said that while KHS has seen students selected for the All-State band in the past, this is the first year he can remember two students making the cut.
"It's really hard to even make it past the first round, and we had four that made it," he said. "It just shows how good our kids are to even make it past the first round."
Schreiber said Bradley and McAtee will now go on to perform with the All-State Band at a special evening concert in Mesa next month.
"They have a performance, it's just like an all-star game," he said. "They take the top players from around the state and they get to practice for a couple of days, then they have a concert they put on at the beginning of February."
The jazz band's accomplishment is only the latest in a series of superlatives to come out of the KHS band room. The school's marching band placed third in their division at the Arizona Band and Orchestra Directors Association's State Championship in Phoenix Nov. 13, easily surpassing their seventh-place finish the year before.
"I'm ecstatic," Schreiber said of his students' achievements. "They're good kids. They worked really hard, and they deserve it."