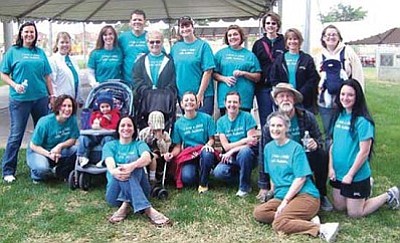 Originally Published: January 27, 2011 5:19 p.m.
KINGMAN - Crystal Miller used to be like most people: She'd see a child throwing a temper tantrum in public, roll her eyes and question the parent's ability to control their kid.
"I'd hear a kid screaming in a grocery store and think, 'Man, I wish that kid would shut up,'" Miller said.
She knows better now.
"Now I see a kid screaming and wonder if he's in pain or if there's something going on that they can't communicate," she said.
Miller's 6-year-old son Jaden was diagnosed with autism when he was 3. Since then, she has found herself in the position of parent, therapist and activist.
Miller is one of the founding members of PACT, which stands for Parenting Autism Challenges Together. The group was formed two years ago out of a consortium of parents and professionals from Manzanita Preschool and serves as a support system for those looking for behavioral help, doctor recommendations or just a sympathetic ear from someone who's been there.
The Center for Disease Control estimates that one out of every 110 children in the United States are born with some degree of autism. What causes autism has been a subject of speculation and controversy, but researchers all agree that autism is a neurological disorder that affects social interaction and communication. The degree of how profoundly a child is affected is referred to as the autism spectrum, which can refer to a child who is completely non-verbal all the way to a highly functioning individual such as the man portrayed in the movie "Rain Man."
Despite the range of abilities, there are many characteristics of autism commonly shared among those affected, including repetitive behavior, a strong need for routine, and emotional episodes triggered by various sounds, smells or textures.
Melissa Palmer has been a member of PACT since her 12-year-old daughter Stefeni was diagnosed a year ago. She said the diagnosis made sense when she looked back. Stefeni rocked back and forth as a baby, and as she got older, she had a tendency to blurt out inappropriate things and laughed at inappropriate times. The transition from elementary school middle school proved so frustrating for Stefeni that her parents enrolled her in the Arizona Virtual Academy online program, where she's thrived working at her own pace.
Miller's son Jaden developed normally until he was 18 months old. Then he started failing to meet the milestones for infants his age and actually began going backward in development, which is referred to as regressive autism.
"He was in his own world," Miller said. "In the beginning, we actually thought he might be deaf. It was like watching a child disappear before your eyes. You lose everything you take for granted with a typical child."
Miller describes it as a kidnapping, or the experience of being robbed of your child. It's a common phrase echoed by many parents of autistic children. But Miller and Palmer agree that while it took time to get over their own stigma of the word "autism," they were relieved to have a diagnosis of what was wrong.
"At least I had a road to travel down," Miller said "Before, there were 'X' number of roads, but I couldn't go down any of them until I knew which one to take. Although when I heard 'autism,' I knew that road was the one less traveled, and I didn't necessarily want to go down it."
"To be able to get a diagnosis was like, 'OK, now we know how to help her,'" Palmer added.
Onilee Ferry has taught special education for the Kingman Unified School District for five years, around the same time classes were dedicated to students with autism. Each of the schools in the district has its own special education classes. The same goes for Kingman Academy of Learning, where Miller's son attends classes.
Ferry has around a half-dozen autistic students in her kindergarten through second grade class, all with varying levels of capabilities and communication skills. Each student has their own Individualized Education Plan, which involves input from the parents, teachers, therapists, administrators and others involved in the student's success.
Ferry said the ultimate goal is to integrate students into classes with their peers, which is not always possible. Because her students have various levels of communication, she tailors her approach to each of their abilities. One student who wears headphones with music and sounds specially chosen to have a therapeutic effect, uses a book he can pull pictures from to say what he wants. Others use assistive technology devices on loan to the district through a library loan program with Northern Arizona University, which has proven extremely beneficial in a time of reduced budgets.
"The loan library is our best friend here," Ferry said.
There is no one face for autism, which Ferry sees in her classroom every day. She has learned to identify the triggers that upset each student and how to help them approach each situation they work on in class. It's a difficult job, she said, but one that's extremely rewarding, especially when coupled with the support of parents.
"It's a hard job having a child with special need, so I return the support," she said.
The parents of PACT say that's their ultimate goal as well: To provide support for the parents and grandparents who need it, to bring more services to Kingman and to raise awareness about the very special children here in the community.
"The beauty of autism is that your child changes you," Miller said. "I like to say that they help you stop and smell the roses. Every single one. And I guess that's where I see the beauty in it."
More like this story