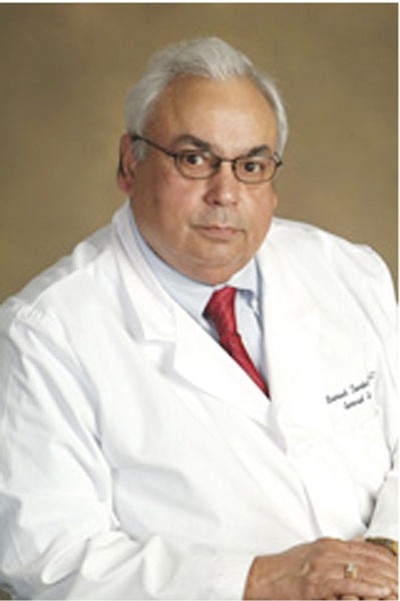 Originally Published: January 31, 2011 6 a.m.
KINGMAN - Kingman Regional Medical Center is crediting the quick action of a local paramedic with saving the life of one of the hospital's general surgeons last month.
Kingman Fire Department paramedic Bob Casson was off-duty and traveling in his own vehicle last month when he heard an emergency call for a resident found unresponsive in his home come over his pager. Since he was only a few blocks from the scene, Casson decided to respond.
According to KRMC, Casson found Dr. Ramesh Tandon unresponsive, not breathing and without a pulse. He immediately started continuous chest compressions, or hands-only CPR, until other emergency responders arrived and were able to start emergency treatment for cardiac arrest. Tandon was transported to KRMC.
According to his family, Tandon is recuperating at the Mayo Clinic in Phoenix. He is in good spirits and talking, eating, reading and even doing a bit of walking.
"Bob's immediate response was crucial to the doctor's life. He did exactly the right thing for the situation," said KRMC Emergency Department Medical Director Dr. Michael Ward.
In a cardiac arrest, the patient's heart stops beating, which means that blood and oxygen are not getting to the brain. A person suffering from cardiac arrest can die in minutes if they don't receive aid, Ward said. Casson's use of chest compression instead of full CPR is important. Recent studies show that the chance of surviving a cardiac arrest outside of a hospital are twice as high if a bystander performs only the chest compression part of CPR.
The American Heart Association urges everyone to learn CCC, continuous chest compressions. Information on the technique can be found online at handsonlycpr.org. The Kingman Fire Department also holds classes on the technique. For more information, call (928) 753-2891.