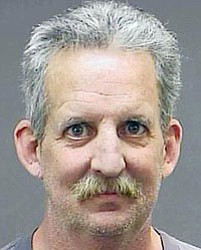 Originally Published: July 5, 2011 6:01 a.m.
KINGMAN - A Kingman man has pleaded guilty to charges of selling marijuana after police found a home marijuana operation at his residence.
Michael Bolton, 51, was arrested in April after an investigation led police to his home in the 2000 block of Gene Autry Drive and to his adult book store business off of Interstate 40. Police said they found a small-scale grow operation inside a bedroom at the home. A half-pound of marijuana was also found stashed under a bush in the area around the bookstore.
According to court documents, Bolton admitted to selling marijuana for the last six months.
Bolton pleaded guilty to one count of felony possession of marijuana for sale, as well as a drug paraphernalia charge from a separate incident.
Under terms of the deal, Bolton will receive probation when sentenced next month. As is common in probation-eligible cases, Judge Derek Carlisle can elect to impose up to a year in jail as terms of the probation sentence.
More like this story