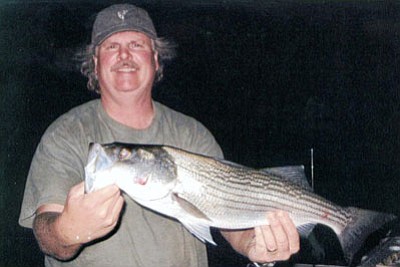 Originally Published: July 6, 2011 6:01 a.m.
The weather wasn't the only thing hot over the Fourth of July holiday in Mohave County.
The striper fishing at Lake Mead's South Cove was just as hot for those of us who spent the holiday nights on the water on this huge Colorado River lake.
This summer has been a strange one for me while taking out folks on guided night-time striper fishing trips.
With the influx of cold water coming in from Lake Powell, and the lake rising more than a foot a week, I just couldn't seem to find the better fish that I really expected to catch.
Oh, we had a few nights where we caught a lot of fish. Our best night for numbers of stripers occurred in June when Yuma resident Sherry Appleby came up with her daughter and son-in-law. We caught 204 stripers and five catfish in one night of fast-paced angling.
Most of these fish were in the 8-12 inch range. Don't get me wrong. In my opinion, these are the best eating size fish in the lake. The meat is firm, and for me, I can fillet one in about 15 seconds.
But I figured we should be catching fish that were from 14-18 inches long; fish that typically weigh from 1½ to 1¾ pounds.
One of the things I do as a fishing guide is keep good records about the number, size and health of the fish we catch.
In a lake that has an estimated two to seven million stripers, I don't worry about over-harvesting the fishery. I am concerned with the health of the lake's fish, and the fish we catch and remove, according to the Arizona Game & Fish Department, only helps this fishery.
The information I record includes the number of fish caught, the largest fish - both stripers and catfish - the weight of the 10 largest stripers and the weight of the 40 best stripers caught during the trip.
These are the results from my trips through last weekend: The most fish caught was 209 by the Appleby group. The best striper was caught by Anthony Chavez and weighed 2 pounds, 14 ounces, while the best channel catfish weighed in at 3-04 and was caught during the Appleby trip.
Our 10 best stripers weighed 20-04, and our 40 best stripers weighed 62-10. Those two records were set by a group of three anglers from Nevada who came down and fished with me in late May.
But then came the dark of the moon and warm water temperatures last weekend.
Friday night I had Jim Rich from Mohave Valley, and friends Jay Chan and Page McDonald on the boat. We went to an area I call Dan's Honey Hole, which is affectionately named for a spot my friend Dan Reed found, and tried our luck.
Despite starting out slow, the fishing picked up around 2 a.m. and when it was over, Rich had set a new big fish record for this summer. His lunker pushed the scales to 4-06.
On Saturday night, I had a husband-and-wife combo from Phoenix fish with me. Chuck and Julie Decker are two of the nicest people you'll ever meet and a fun couple to fish with.
We went back to the same general area and in just six hours filled up every ice chest we had in the boat. But these weren't the smaller "schoolies" stripers. These were the better fish I had been looking for.
We caught 115 stripers and two catfish. Their total weight was more than 175 pounds.
Our best fish weighed 2-14, and our 10 best weighed 22-10. Our 40 best, however, pushed the scales to 73-10 and eclipsed our previous record by more than 10 pounds.
It seemed every fish we had was a quality fish.
So how were we going to beat that night?
We didn't, but the next night we sure gave it a try.
On Sunday night, my friend Kensen Lee from Las Vegas, my brother, Gary, and his sweetie, Tammy Bollinger, and my 15-year old nephew from Oregon, Ryan Wood, were on the jet boat.
The monsoon storm that swept through Mohave County kept us off the water until 11 p.m. but then off we went.
In six hours we got 92 stripers, and Kensen caught four catfish.
The highlight of the night was when Ryan, who has had very limited fishing experience, caught five nice stripers.
And Tammy caught a larger striper than I did for the first time. She got a lunker that weighed 2-08. My best weighed 2-04. Kensen even beat me this night with a 2-06 fish.
Our 10 best fish set a new standard. They weighed 23-02.
When it was all said and done, we split up almost 40 pounds of striper fillets.
Not sure how long this bite is going to last, but if you like to catch and eat stripers, now is the time to go.
Find some deep water, put out a couple of floating lights, chum a lot and hang on.
The fish are there, and they are hungry!